'At least three brokerages, two domestic and one global, have said the company could cut its revenue growth guidance again in dollar terms,' reports Ayan Pramanik.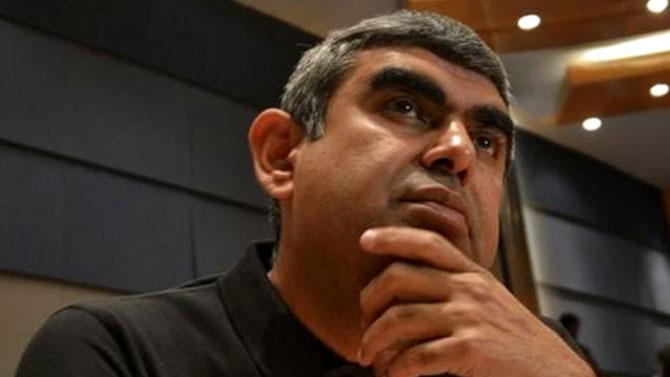 Infosys, the country's second largest information technology services company, could see its 'weakest' quarterly performance in two years on Friday, when it announces the December quarter results.
'We expect Infosys to report the weakest results and drop its US dollar guidance (growth forecast) to seven-eight per cent. We would look for signs of cyclical strength, particularly in US banking or retail, to filter into commentary for 4Q (fourth or March quarter),' brokerage CLSA said.
At least three brokerages, two domestic and one global, have said the company could cut its revenue growth guidance again in dollar terms, even if it maintains the revised one in constant currency terms.
Amid pressure over large deal wins in traditional IT services business, coupled with slower growth in the digital technology one, the company has twice reduced its growth guidance for this financial year, finally to 8% to 9%.
In a new year letter to employees, Chief Executive Officer Vishal Sikka said things like Donald Trump's US victory and demonetisation here were mere blips.
The big impact would be technology disruption.
A slow growth projection for a second time has put more pressure on Sikka for achieving his annual revenue target of $20 billion by 2020, with 30% margins and per-employee productivity of $80,000.
Also, he has issues such as the H1B visa norms, increasing the minimum wage in the US and local hiring to deal with.
In Q2 (July-September), net profit grew 6.1% to Rs 3,606 crore (Rs 36.06 billion) and revenue at 10.1% to Rs 17,310 crore (Rs 17.31 billion) over the year-before period.
Operating margins, calculated as revenue minus costs, improved by 80 basis points to 24.9% as the company focused on efficiency by increasing work offshore and reducing onsite.
Here are 5 things investors should watch for:
Deal wins during Q3: The company has been seeing pricing pressure and delay in deal wins.
The RBS contract rampdown has impacted two quarters, back to back.
"Investors should look for deal wins in the third quarter and total contract value,"" says Ashish Chopra of brokerage Motilal Oswal.
The contribution of large deals in its revenue is crucial for $20 billion revenue by 2020.
Measures for macro economic challenges: After Donald Trump's presidential election rhetoric to bring back jobs to the US, a Bill has been proposed by legislators there for a minimum pay hike for H1B visa holders from $60,000 to $100,000 yearly.
Since the company gets a significant share of its IT services revenue from there and deploys Indians onsite, the management's comments on how to address such challenges is important, said Kawaljeet Saluja, research analyst, Kotak Institutional Equity.
Maintaining margin: At least three brokerages have said Infosys might see a decline in margin from its earlier outlook of 24% to 25% on the back of seasonal impact and RBS ramp-down.
One should take a note of its margin projections for the whole financial year.
Realisation on investments in new areas: The company has invested in the past three quarters on automation and digital technology, such as acquiring Danish artificial intelligence firm UNSILO to an unmanned air vehicle firm, ideaForge.
It is important to hear the company's commentary on profitability from these investments over the next few quarters.
Vertical-wise improvement: Infosys has already said it has pricing pressure from BFSI (banking, financial services, insurance) clients and some other verticals.
And on a 'softness' in the US. "Management commentary on the operative environment, especially in BFSI after comments around potential softness in US, is important to watch," said Pankaj Kapoor, research analyst, JM Financial.
Investors should also look at sequential change in constant currency realisation.
IMAGE: Infosys CEO Vishal Sikka.