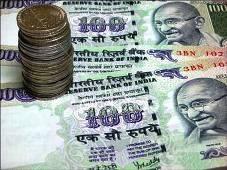 Fiscal deficit till December already touched 4.3 per cent of the gross domestic product for the entire financial year, just 0.3 percentage points short of the Budget target of 4.6 per cent of GDP.

Advance estimates on Tuesday estimated nominal GDP this financial year to be slightly less than that projected in the Budget, and this would magnify fiscal deficit as a portion of GDP.

The nominal GDP for 2011-12 is estimated at Rs 89.12 lakh crore (Rs 89.12 trillion), lower than the Budget projection of Rs 89.9 lakh crore (Rs 89.9 trillion).

In fact, the nominal GDP growth rate rose to 16.1 per cent from 14 per cent estimated in the Budget. However, in absolute numbers, GDP declined. But the growth rate was lower than 18.8 per cent in 2010-11.

Fiscal deficit till December touched 92.3 per cent of the Budget estimate, and given not much is expected from the disinvestment side this year and non-Plan expenditure is expected to grow faster in the last three months of 2011-12, the fiscal deficit may be a cause of concern.

Expenditure over the revenue touched 6.7 per cent of GDP in the first half of the current financial year.

Ratings agency Standard & Poor's has suggested India should rein in fiscal deficit, and this would be vital to boosting investor confidence.

Madan Sabnavis, chief economist, CARE Ratings, said, "I expect fiscal deficit to touch Rs 5.1 lakh crore (Rs 5.1 trillion), against the Budget estimate of Rs 4.12 lakh crore (Rs 4.12 trillion), which would take the fiscal deficit to at least 5.8 per cent of GDP."
Click Here For Rediff Realtime News!

The government's disinvestment target of Rs 40,000 crore (Rs 400 billion) is off the mark, as it could achieve just about Rs 1,100 crore (Rs 11 billion) of revenue till December.

With Specified Undertaking of the Unit trust of India not expected this financial year, there is not much hope of realisation through divestment.

However, Pronab Sen, principal advisor, Planning Commission, said despite the downward revision in nominal GDP, the fiscal deficit target would finally stand below five per cent in 2011-12.

"It is below five per cent, as GDP rates would be revised upwards," he said.

Anis Chakravarty, director, Deloitte, Haskins and Sells, pegged fiscal deficit for 2011-12 at over 5.5 per cent of GDP, as various factors would together make it difficult to rein in fiscal deficit.

"Tax collections have been low.

"The revenue deficit is quite high, and due to fluctuation in prices, it is difficult to pass on the burden to the consumer, adding to its subsidy bill."

The finance ministry has also raised doubts over meeting the direct tax collections target. It has said there may be a shortfall of Rs 15,000-20,000 crore (Rs 150-200 billion) on the direct tax front.

Net direct tax collections in the first ten months of this financial year grew 9.8 per cent year-on-year at Rs 3.47 lakh crore (Rs 3.47 trillion), 65.22 per cent of the Budget estimate of Rs 532,651 crore (Rs 5,326.51 billion).

Indirect tax collections rose 42.8 per cent to Rs 237,192 crore (Rs 2,371.92 billion) during the nine months ended December, 75.7 per cent of the Budget estimate of Rs 313,471 crore (Rs 3,134.71 billion) for 2011-12.

The government expects Rs 7,000 crore (Rs 70 billion) of dividends from public sector undertakings, taking the total collection in the current financial year to Rs 30,000 crore (Rs 300 billion).

However, the expenditure in the first nine months of this financial year was under control.

In fact, the Plan expenditure was less than last year's, as a portion of Budget estimates till December.

It stood at Rs 2.76 lakh crore (Rs 2.76 trillion), 62.7 per cent of Budget estimates, against 67 per cent in the corresponding period of the previous financial year.

Non-Plan expenditure was Rs 6.19 lakh crore (Rs 6.19 trillion), 75.9 per cent of the Budget estimate, against 73 per cent in the year-ago period.

But this is slated to increase, owing to the subsidy burden on petroleum products, fertiliser and food.