Labour ministry draft proposal wants curbs on outside union membership and tribunals scrapped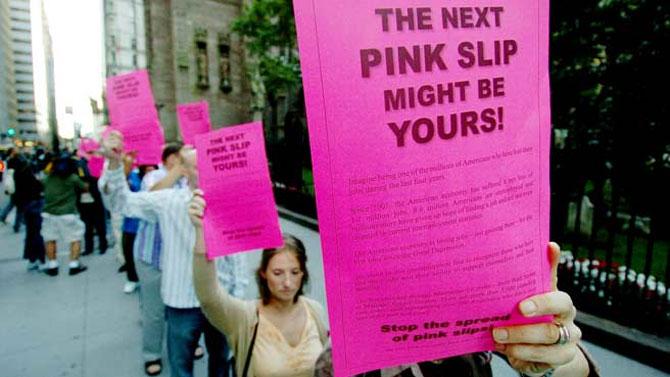 As industry presses for labour reforms, the National Democratic Alliance government has proposed allowing companies hiring up to 300 workers to lay them off without seeking official sanction.
Currently, industries with up to 100 workers were allowed to do this.
The Centre is following the Rajasthan government, which had made a similar change to its labour laws five months ago.
The Union labour ministry will integrate three laws -- the Trade Unions Act, the Industrial Disputes Act and the Industrial Employment (Standing Orders) Act -- into a single code for industrial relations.
The notice period for establishments to fire employees or shut down a unit is proposed to be increased to three months from one month now.
Retrenched workers are to be paid an average salary of 45 days, instead of the 15 days at present.
A worker will be allowed to object to being laid off within three years, against no clear period specified in the law now.
The proposals are designed to make hiring flexible and bring more workers under labour legislation.
"We are re-examining the labour laws on two aspects -- strengthening the social security net of the labours and ensuring compliance be such that no employer is harassed," Union Labour Secretary Shankar Aggarwal told Business Standard.
Aggarwal said in the name of compliance, because of stringent labour laws, small and big establishments were not able to set up factories in India and there was a lack of flexibility.
The ministry has invited comments on its proposals by May 26.
It will hold consultations with trade unions and industry before sending the proposals for Cabinet approval.
Only employees will be allowed to form unions.
In the unorganised sector, two officials from outside can become members of a union.
"Politicisation of unions will be significantly restricted.
"This will also maintain genuine representation of workers," said a labour ministry official who did not wish to be named.
During conciliatory proceedings, workers in all industrial sectors will not be permitted to go on a strike.
The ministry has proposed scrapping various arbitration forums, including the labour court.
"The industrial tribunal will continue, but the labour court, the board of arbitration and the tribunal court will cease to exist," the official said.
Further, strikes will not be allowed without a six-week notice.
Now, only workers at public utilities need to provide such a notice to employers.
Mass casual leave will be considered a strike.
The proposal says if more than half the workers are on casual leave, it will be treated a strike.
"This will reduce harassment of employers because workers tend to go on casual leave and not call it a strike," the official added.
The image is used for representational purpose only. Photograph: Reuters