The Federation of Indian Chambers of Commerce and Industry (Ficci) president RV Kanoria calls for privatisation of Coal India Limited (CIL), the world's largest coal producer and India's public sector unit.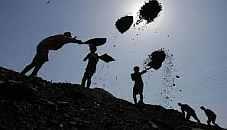 To reduce the threat of current energy crisis in India, CIL needs to have a comprehensive policy framework for the energy sector, he said.

Power generation is afflicted by an uncertain fuel supply situation, both in terms of availability and quality, rising prices of coal and monopolistic behaviour of Coal India Limited (CIL). It is important to allow privatisation in CIL, and sell it to different private players to make the sector competitive and profit-oriented and to break CIL's monopoly, he added.

Ficci has approached the government to come up with a comprehensive power policy to ensure reducing the power crisis situation in the country. Some recommendations include setting up of coal regulator and redistribution of coal linkages to decrease cost of logistics.

As per the projections for the terminal year of the 12th Five-Year Plan, domestic coal production will be 750 million tonne, while demand will reach 1
billion tonne. "The demand-supply gap in energy has consistently been increasing, as the domestic energy production is unable to keep pace with the demand," he added.
Power is the basic requirement for industrial and economic growth, and coal being the prominent fuel for power generation, there is an urgent need for reforms in the coal sector.
Addressing mediapersons on 'Emerging energy crisis' here on Monday, Kanoria said that with the growing energy consumption and limited energy supplies, the country's energy security is under threat.
"India's energy sector is under threat due to increasing fuel subsidy burden, volatile international crude oil prices, irrational domestic pricing mechanism, lack of fuel availability for power generation, slow policy reforms in power distribution sector and inadequate infrastructure."
AP power crisis situation worst in India


Andhra Pradesh is the worst-affected state in power shortage, a problem which has been continuing since the last two years. "For the past two years, the coal supply is deteriorating. Supply is less while demand is increasing steadily. The outlooks are very scary and sensitive from the economic point of view," he said.