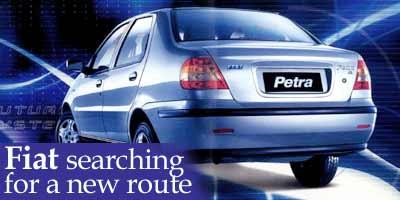 It's that time of the year again when loss making car manufacturer, Fiat India, gets into revamp mode. After years of crying hoarse about legacy issues and competition, today the Indian subsidiary of parent Fiat Turin is hoping that this time around, its fourth revamp in five years, will not encounter any speed breakers.
The question is whether the company will get its strategy right this time. It's now focusing on becoming a volume player and a slew of new products are in the pipeline.
To flag off this revamp, it is betting that the launch of the 1.9 diesel Petra (read revamped Siena, also called Albea in some countries) priced at Rs 520,000 on-road (Mumbai), will pave the way to a more prosperous future.
From concentrating on B-segment cars (usually two box, under Rs 450,000) for the last 4-5 years, the company is now focusing on the C-segment which has grown roughly 50 per cent in the last year.
First to hit the road, however, will be the 1.6L petrol version of the Petra followed by the diesel 1.9L a month later. And in the near future, it may also consider launching the Panda, a re-launched version of the Uno and even the Alfa Romeo.
Says Ananda M Gupta, director-commercial, Fiat India, "The diesel version of Petra will be a significant factor in our turnaround."
The company has also finally put in place a financial restructuring plan that involves writing off the Rs 1,300 crore (Rs 13 billion) loss from its existing equity capital of Rs 1,368 crore (Rs 13.68 billion).
The Italian parent, which had its own set of troubles last year, is now planning to infuse roughly Rs 470 crore (Rs 4.70 billion) into the Indian arm to back new product launches.
In addition, Fiat Turin has upped its stake to 99.75 per cent by converting debt into equity (The Doshi family's stake in the company has gone down to 0.75 per cent compared to the earlier 2.34 per cent).
On the roadmap is also a plan to finally weed out unprofitable dealers and re-establish relationships with profitable dealers, revamping after sales service and addressing consumer perceptions about the company, product and brand.
Says Gupta, "I don't know why certain things were not done in the past, but this time we are going to change the distribution and network." Gupta, who came on board from Honda Siel a year ago and has faced a challenging time with Fiat, says that he firmly believes in the adage that a car is only as good as its dealer network.
Clearly, the company desperately needs a stroke of luck. After parting ways from the joint venture with the Doshi family owned Premier Automobiles in 1997, it has struggled to get its distribution, product, service and communication strategy right.
The issues with Fiat have always been the same. The company has faced a vicious cycle of not being able to support either the product or the dealer adequately.
"They had a problem of being uncommunicative and there were several issues with product and availability. So very few dealers were interested in tying up with them," says one Mumbai-based car dealer.
For instance, even though news about Fiat Turin's problems percolated to the Indian market, the company failed to allay fears about the company's stability.
Gupta concedes that not much was done to alter the perception problem then. But that was only one problem. The larger issue for Fiat was that its products were launched with a bang but then sales tapered off till they were phased out.
Production of both the Siena and Uno have ceased. Today, 90 per cent of Fiat's Rs 500 crore (Rs 5 billion) revenue comes from domestic sales of the Palio and the rest from exports. In fact, the company utilises less than 20 per cent of its total 50,000 cars a year capacity at the Kurla plant.
Dealers say that Fiat has always had problems with its products. For instance, when the Palio was launched in September 2001, Fiat was selling around 4,500 cars a month compared to selling barely 900 now.
Unfortunately, customers quickly discovered that the vehicle had a fuel efficiency problem. While the Hyundai Santro gave a mileage of 13 km in city conditions, the Palio 1.6 gave only 7 km to 8 km.
Though, subsequently, the Palio NV with a 1.2 engine has been launched and the mileage issue has been dealt with (it now gives 12 km) dealers say potential customers still worry about fuel efficiency.
"Consumers wanted value for money and they didn't see the Palio offering that," says one Mumbai-based Fiat dealer. Adds an industry source, "Dealers themselves didn't sound convinced while selling the product " Obviously, it didn't help that the competition took full advantage of Fiat's predicament.
Then with the Uno, which is now no longer produced, the company launched a car which did not comply with Euro II emission norms. This meant, the car could not be sold in the metros -- key markets for any car manufacturer. Again the company took time to change that.
The other problem was pricing. Though Fiat always launched its cars at attractive prices, it couldn't sustain the competitiveness. When the Siena was launched in July 1999, it sold around 800 cars till September that year.
Just when the Ford Ikon was launched in October that same year, Fiat increased the Siena's price by 5 per cent. Says an industry observer, "The company suffered from an inability to respond to local conditions."
Even dealer support was inadequate. That's because the Palio was launched with eight to 10 variants, with each variant in eight colours.
"It was a logistical problem, we couldn't manage to maintain supply of colours and availability," says Gupta. This created an inventory build up at the dealer end.
If a customer walked in and wanted a particular shade of a car instead of supporting the dealer and exchanging his existing stock with the required shade, the company demanded payments. Any delay and Fiat slapped a 23 per cent interest rate per day on the dealer. So till a year back, dealers had two months stock in the pipeline.
So what is Fiat doing now? It is expanding its dealer network from the current 56 to 68 by December end and weeding out the laggards. Since the Palio launch, only 17 new dealers were taken on board. Gupta wants to change that.
Currently, Fiat sells in 48 cities with Mumbai being its strongest market. Gupta now plans to focus on the Delhi market as well. He has roped in retail audit firm AC Neilsen to conduct a 10-week long dealer and consumer survey to pin point specific problem areas. "With the survey results we can focus on specific issues," he says.
"In after sales, the problems were on two levels -- technical capability and soft skills," he adds. So today, technical managers head out to various locations conducting training programmes for the service staff.
Also the company has introduced what it calls menu pricing so that when a consumer walks into a service station he knows how much the service will cost. "It will introduce transparency and uniformity," says Gupta.
Also, the company has streamlined the number of variants. Today, Palio has only four variants each of which is available in five colours. Gupta also plans to work out the 2 per cent margin currently being offered to dealers as well as the inventory pile up. Nowadays, dealers only maintain a months' stock.
Will all these efforts be enough for Fiat to break into the already crowded C-segment? "My dream is that in three years time we become significant players in both the B and C segments and that consumer perceptions turnaround," says Gupta.
Unfortunately, most analysts and dealers don't share his optimism. Says one analyst: "I think they will continue as a marginal player."
Powered by