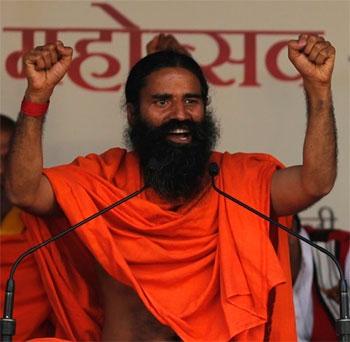 Enforcement Directorate (ED) may close a case of alleged foreign exchange violation it had initiated a few years ago against yoga exponent Ramdev and his Haridwar-based trusts due to insufficient evidence.
Sources said the agency has not been able to make any significant progress in the case as it could not obtain evidence with regard to financial links about the purchase of an island in Scotland that was 'gifted' to Ramdev by a couple who are among his followers.
The Little Cumbrae Island, off the fishing town of Largs in Scotland, serves as Ramdev's base overseas and also as a wellness centre.
Some similar assets in Madagascar, Africa, were also under probe and the agency had sent official communication for assistance in the case to their counterparts abroad.
ED had also sought the help of authorities in the UK and a few other locations to get inputs on funding-related aspects of the island, after it had registered a case under Foreign Exchange Management Act (FEMA) on the basis of a report from RBI and inputs from abroad on alleged "suspicious" financial transactions done by trusts run by Ramdev.
Sources said the evidence gathered from the UK authorities and other channels were "not sufficient" to take the case forward and hence it could be closed soon.
"Some more inputs related to the acquisition of islands are to be ascertained and only after getting a clear picture, the future direction of the case could be ascertained," they said.
ED had been investigating alleged foreign remittances and inflow of funds in the sale and purchase of this island and a few other assets abroad by the trusts.
The probe was aimed at checking the flow of money and transactions through various trusts floated by Ramdev including the Patanjali Yogpeeth Trust, Divya Yoga Mandir Trust and Bharat Swabhiman Trust based in Uttarakhand's Haridwar.
Earlier, another money laundering case registered against Ramdev's close aide Balkrishna was closed by the agency last year after finding no evidence against him relating to generation of alleged crime proceeds.
The agency had registered a case under Prevention of Money Laundering Act (PMLA) against Balkrishna in 2012 on charges of alleged laundering of funds on account of travels and investments made abroad using a purported forged passport.