'When you have surplus cash flow and markets correct sharply, what options do you have other than buying good stocks?'
Chandan Kishore Kant reports.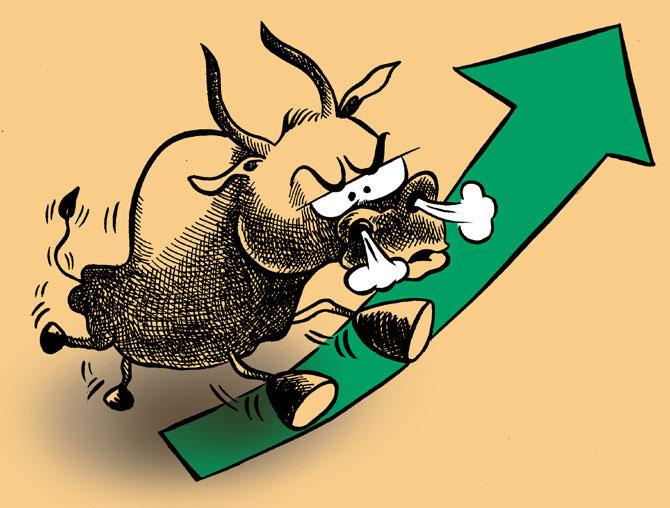 Illustration: Uttam Ghosh/Rediff.com
Following their established strategy of 'buy on dips', funds have put a little over Rs 100 billion in stocks, the most in three months and the second highest since April 2017.
Fund managers had applied the brakes on investment in December and January, when stock prices had jumped sharply.
Their monthly investment tally for these two months was Rs 83 billion and Rs 90 billion, respectively.
As a result, their cash at hand had risen, with new monthly inflow from their investors adding to this.
Steep share price falls in February offered an opportunity -- many of the best stocks lost a little over 10 per cent of their value in a short span.
The buying was across stocks, large-cap or mid-cap counters.
"When you have surplus cash flow and markets correct sharply, what options do you have other than buying good stocks? February has been an opportunity. But we were selective in our approach," says Amit Nigam, equity head, Essel Finance Asset Management.
Other fund managers say with high month-on-month flows, it is not easy to sit on cash. Inflow from systematic investment plans (SIPs) has crossed Rs 65 billion on a monthly basis.
Stocks that have drawn fund managers in recent corrections include Tata Motors, ICICI Bank, HDFC Bank, Larsen & Toubro, Maruti Suzuki, Hindalco, Motherson Sumi, Sun Pharmaceutical, Kotak Mahindra Bank, Interglobe Aviation and ITC.
"We used the corrections to deploy money in select counters," says Taher Badshah, chief investment officer, at Invesco Mutual Fund.
"Every stock which corrects does not become attractive. We also need a certain degree of safety and stability. The focus was on stocks that did not participate in the latest leg of the rally, large-cap or mid-cap," Shah adds.
Fund management now is tougher than, say, two or three years ago.
Fund managers' focus is now turning from generating an alpha (high) return to stability in their portfolios; most are expecting 2018 to be a highly volatile year.
Asset allocation is being strongly advised by them in recent months.
Most fund managers do not see the National Stock Exchange's benchmark Nifty falling below 9,500.
"As long as the markets remain in the current range, though volatile, we will keep deploying cash", said a fund manager.
Thus far in 2017-2018, equity funds have invested nearly Rs 1.3 trillion in stocks, providing firm support to the markets.