Foreign direct investment in retail has been welcomed at TiEcon in New Delhi, writes Faisal Kidwai.

"Indian government's decision to allow foreign direct investment in retail is a welcome step, and this move will benefit not only foreign retailers but also India," said the British high commission to India at the keynote opening address at TiEcon Delhi 2012.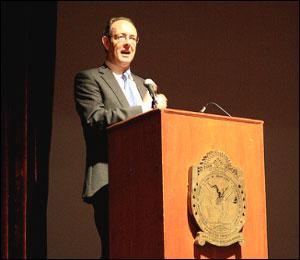 James Bevan said FDI in retail will help farmers secure good prices for their products, will develop logistics and infrastructure - especially warehousing - reduce wastage of food products and will even benefit kirana stores, as the owners can purchase the goods at a cheaper rate from big supermarkets and then resell it a profit in their local grocery stores.
"The decision to allow big supermarket chains, such as the United Kingdom's Tesco, will prove to be beneficial to everyone," said Sir James.
The annual flagship conference of the Delhi-NCR chapter of The Indus Entrepreneurs, a global body of successful entrepreneurs that fosters entrepreneurship globally through mentoring, networking, and education, is being attended by more than 1,000 entrepreneurs and 60 speakers.
The theme of this year's conference is 'Entrepreneurship - Thriving in Chaos'.
Lord Kiran Billimoria, a celebrated entrepreneur and founder of Cobra beer, said: "The biggest advantage this FDI move will have is boost the mood of investors, especially foreign ones, who were having second thoughts about India and its reform process."
He said the policy paralysis, which had gripped the country in recent months, was over, and India was back in business.
Touching on the subject of the UK clamping down on alleged student visa scams in Britain, Sir James said colleges and universities in the UK are continuing to take in more students from India than just about any other country.
"Universities, such as Cambridge, are admitting more students from India than from any other country. Britain is open to talent and there's no limit on number of students who can enter the UK," said Sir James.
He said Britain welcomes students, especially those from information technology background, adding that the British government is giving preference to technology sector.
While acknowledging that the Silicon Valley in the United States is much better known around the world, a hub in East London, called Tech City, is attracting the best and the brightest in the technology field.
When asked how Lord Billimoria came up with the name Cobra for a beer, he replied he had originally decided on Panther and had even sent the posters for printing, but a study conducted just before the launch of the brand revealed that many customers were not happy with the name, so they had to change it Cobra at the last minute.
He said he decided to enter the cut-throat industry of beer in the United Kingdom because he was not happy with the existing beers and wanted to produce something that went well with Indian food.
"Big ideas come when you are unsatisfied with existing products", said Lord Billimoria.
Photograph: Kind courtesy, British High Commission, New Delhi