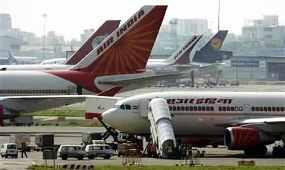 The government may not be able to allow foreign airlines to buy stake in cash-starved domestic carriers in the near future as key United Progressive Alliance ally Trinamool Congress remains steadfast in opposing the move, highly placed sources said.

"Civil Aviation Minister Ajit Singh has held two meetings with Trinamool Congress chief Mamata Banerjee to persuade her to give a go-ahead to the proposal.

"But, no consensus has yet been reached," they said.

The proposal to allow foreign airlines to buy upto 49 per cent stake in domestic carriers originally mooted by the Commerce and Industry Ministry, has received a green signal from the Finance Ministry and the Civil Aviation Ministry.

Although the Department of Industrial Policy and Promotion has sent a cabinet note on the matter, it was felt that TMC should be taken on board before the issue is taken to the Cabinet for consideration.

Besides,
as stated by Civil Aviation Minister Ajit Singh, there is not much enthusiasm among the foreign carriers to invest in the Indian airlines at this point of time.
TMC chief and West Bengal Chief Minister Mamata Banerjee had also forced the government to put on hold the decision to allow 51 per cent foreign direct investment in multi-brand retail sector.
"We do not want repeat of that embarrassment. The government is very cautious this time," an official said.
The domestic airlines are desperate for equity induction from abroad as they face cash crunch on account of rising fuel prices and other operational costs besides strong competition.
Currently, India does not permit foreign airlines to buy stake in domestic airlines, although foreign investors are allowed to hold 49 per cent.
The debt-laden Kingfisher Airlines, which is burdened with a debt of over Rs 7,000 crore (Rs 70 billion), is strongly pitching for the foreign airlines to invest in domestic carriers.