New York, Milan, Paris, and London -- few would deny these cities are home to the most innovative fashion designers on the planet. Well, how about New Delhi and Mumbai?
If the country's ambitious fashion design community realizes its vision, the country known best for silk saris could someday be a big exporter of high-end clothing labels in the same category as Prada or Gucci.
That's the dream anyway -- and it's going to be a stretch. India does have a long and venerable history as a major textile producer.
The image of Mahatma Gandhi and his wooden spinning wheel is known around the world. And today the production of cotton, jute, silk, wool, and other fabrics employs about 35 million Indians and represents about one-third of the country's exports. It's a fragmented industry, but it more than holds its own against rival Chinese textile companies.
Yet when it comes to finished garments, particularly high-end ones, India has a long way to go. The nation's clothing factories do about $5 billion a year in exports but these are largely lower-end products for big Western retailers such as the Gap and Banana Republic chains. Indian designer-wear generates only $40 million or so in sales in a global market segment worth some $35 billion.
Paris in the Springtime
Indian fashion boosters, however, think that's about to change. Some argue that the global cool factor that currently surrounds Indian Bollywood entertainment and pop music is a huge opportunity for local fashion designers who can marry Indian motifs with Western styles to reach a global audience.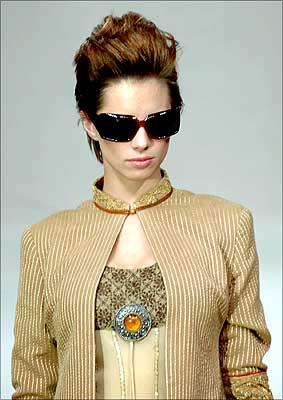 "Indian designers are able to use their Indian-ness to make their offerings globally appealing," says Narendra Kumar, a leading designer known for his fusion of Asian themes, detailed embroidery, and Western contemporary fashion looks.
Indian fashion has received a boost of late. The work of such designers as Rina Dhaka now appears in global fashion magazines Marie Claire and Vanity Fair -- and her creations have been worn by such global celebrities as Uma Thurman and Naomi Campbell. Meanwhile, two other designers -- Anamika Khanna and Manish Arora -- will be the first Indians ever invited to showcase their work at the Paris Fashion Week extravaganza in September.
The country's own two big fashionista gatherings, the Wills Lifestyle India Fashion Week and Lakme India Fashion Week, have grown into bi-annual events to preview new collections for autumn/winter and spring/summer. Their just-finished shows in late March attracted 87 local and international designers, and all manner of wholesalers representing fashion boutiques from around the world.
Bring on the Funk
One big shift is the growing influence of younger designers who have studied abroad and bring a global perspective to their fashion sense.
Among the designers strutting their stuff at India Fashion Week was Raghavendra Rathore, who studied at the Parsons School of Design in New York and worked with DKNY and Oscar de la Renta before launching his own label called Rathore Jodhpur back in the mid-90s. His men's wear line combines traditional styles with comfort and is aimed at young urban professionals
Sonali Mansingka, who also exhibited, studied at the London College of Fashion and at the London Center for Fashion Studies, and her day and evening-wear is aimed at modern women fond of a touch of funky styling and the hippie life.
"In the last five years, many Indian designers also studied abroad, which has helped India become center stage," says Rathi Vinay Jha, director general of the Fashion Design Council of India, an industry group.
The Next Rodeo Drive
Yet few expect Indian designers to blaze a trail into the global fashion industry overnight. Building a global fashion label takes years of careful branding and the right distribution network -- and very deep pockets, according to Pradeep Hirani, chairman of Kimaya Fashions, a chain of high-end retail shops.
He thinks the fusion of Indian craftsmanship and Western fashion is a "lethal combination" and great opportunity. But going worldwide successfully will take loads of business smarts. "To go global, you have to leverage your brand image and brand association," says Hirani.
That will take some time. In the meantime, the Fashion Design Council of India is trying to get the government of Prime Minister Manmohan Singh to spend the money to develop a seven-acre fashion hub at Dwarka, a sub-city of New Delhi. It would be kind of an Indian 5th Avenue with a convention center for fashion shows, retail boutiques galore, and a five-star hotel.
Thinking big is the Indian way this decade, given its strong economic run. Whether the country can succeed in high fashion just as it has in global outsourcing and software development will be one of the more interesting business stories to watch in the years ahead.
On the second day of the three-day Dubai International Fashion Week held at Dubai's Royal Mirage Hotel, Delhi designer J J Valaya showcases his range of goggles, customs jewellery.
Photographs: Mohammad Shamsuddin, Snapsindia, Dubai