Long-haul low-cost carriers like Scoot and AirAsia X offer a similar configuration.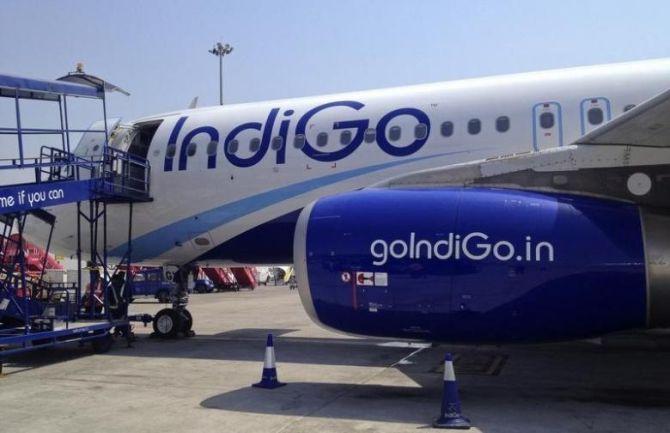 IndiGo may adopt a two-class configuration in its long-haul routes.
The airline plans to offer a small business class along with dense economy seating, and unbundled products like meals, priority boarding and check-in, and seat selection to economy passengers.
Long-haul low-cost carriers (LCCs) like Scoot and AirAsia X offer a similar configuration.
"If we expand our operations to include long-haul international routes, we may have to consider full-service flights, business-class seating, code-sharing arrangements," InterGlobe Aviation, parent company of IndiGo, mentioned in its draft red herring prospectus (DRHP), which was filed with the regulator ahead of its proposed share sale.
A senior IndiGo official said that the airline plans to offer fares that are at least 30 per cent lower on the long-haul routes.
"We will offer a small business class, along with high-density economy class, with 25 per cent to 30 per cent lower fares.
We have a cost structure that is the lowest in the world and that will allow us to bring down the fares," the IndiGo executive said.
Sources say that IndiGo may opt for the Airbus A330-200 model for its long-haul operations.
The International Airlines Group's low-cost airline, LEVEL, which uses the A330-200 model, provides 314 seats, including 21 premium economy seats, and has a six-level fare structure.
According to the IndiGo official, the cost structure of a LCC makes it ideal to offer long-haul services.
"An airline's cost is primarily fuel burn, aircraft acquisition cost and labour cost, all of which are one of the lowest for IndiGo," he said.
The DRHP filed by the company says that IndiGo has one of the lowest cost structures not only in India but across the world.
Excluding fuel cost, IndiGo's expense of operating one seat for one kilometre (CASK) is Rs 1.79, while the same for its low-cost rival SpiceJet is Rs 2.33.
Among global LCC majors, American airline Southwest burns Rs 3.52, while Ryanair in Europe spends Rs 1.45.
However, experts are sceptical about the proposed plan.
"Half of the potential unit-cost advantage for long-haul LCCs is from higher seat count enabled by reducing business-class seats and making the economy seating denser but you cannot reduce the cost of components like fuel.
On long-haul flights, fuel's share of direct operating costs grows from 30 per cent to 50 per cent," said an executive of a full-service carrier.
A senior Air India official pointed out that legacy carriers can bring down the cost of economy seats by charging higher for premium seats.
"Premium traffic may account for only around 10 per cent to 20 per cent of passengers, yet it can represent up to 50 per cent of revenues in long haul," the official said.
In its DRHP, IndiGo highlighted that operating long-haul routes could be a challenge as the airline has, till now, operated a single-class configuration in short-haul routes.
"While we operate short-haul international flights to seven destinations, the majority of our existing operations are focused within India, and we have less experience operating in international sectors.
Future international expansion initiatives that we may undertake would involve risks that are not generally encountered when doing business only in India," it said.
Photograph: Vivek Prakash/Reuters