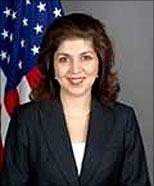 Srinagar-born Farah Pandith, US Representative to Muslim Communities from around the world, in defending President Barack Obama's decision to invite delegates from largely Muslim-majority countries and those with sizable Muslim minorities for his Presidential Entrepreneurship Summit, said this was a pledge he had made in his Cairo speech in June last year during his outreach to the Islamic world and "something he wanted to do."
Pandith told rediff.com during an interaction that followed her address to the Atlantic Council in Washington that "he wanted to bring young entrepreneurs from around the world to Washington to highlight the tool of entrepreneurship that one person can make a difference."
The Indian delegation includes the queen of herbal beauty products Shahnaz Husain, 64, who has vowed to 'unleash woman power' at the conference, which may very well be in the panel that will be led by Pandith.
Pandith said, "Whether you are a business entrepreneur, or you're are social entrepreneur, or you're an idea entrepreneur or you're a technology entrepreneur, the idea that you can journey through that and actually develop something that has high impact on the ground, that can add value, can build stronger communities, can add value on the economic side as well, for some of these entrepreneurs, it is an important message to send worldwide -- I don't care what faith you are -- that you can be infected with this idea."
'You don't have to wait for someone else to tell you to do something," she said. "If you look around and you see a playground that's filled with litter, that you can figure out a program to actually pick up that litter off the ground, or in some cases -- I just met an entrepreneur in Mauritania who came to the table to talk to me and said, you know, 'Look Farah, I looked around and there were no after-school program in Nouakchott. What are these kids doing? They're hanging around, doing nothing. I want to create a way to do this.' So he created -- he's a social entrepreneur. I mean, it's terrific to see that passion and that idealism and that dedication to building stronger communities."
Pandith said that what Obama was doing "is taking all examples -- not all of them -- examples, from around the world, of lights of energy and passion and entrepreneurship and bringing them to Washington, so you can highlight the idea that one person can make a difference -- to highlight the idea of what entrepreneurship means, to connect them with some of the best resources in America that actually have worked on entrepreneurship, whether they're our universities, or our foundations, or our actual entrepreneurs that are going to be speaking to them, that they will be able to take their ideas and move them forward in new ways and to polish and to actually act as ambassadors for when they go back to their own country, too look to the generations behind them and say: You can do it too."
She reiterated that 'no matter what faith you are, the idea of entrepreneurship is unbelievably important. And the takeaway for this is unprecedented. We don't know what will come out of this, we don't know what the connections will be. (But) We know that a network will be built because that's what happens when you put smart people together over the course of a few days."
Pandith acknowledged that "we don't know when a new idea will come forward and somebody in that audience will have the seed money, or the foundation, or the business sector. There are people who are coming to this that are not the typical people that you see."
"They're people that have been asked to come because we want to shake it up a bit. And the President will be speaking to them. The Secretary of State will be speaking to them and several others in our government who will be able to inspire them."
But more importantly, Pandith argued, "They'll be speaking to each other. So you'll be able to highlight somebody like Naif Mutawa, who was a social entrepreneur who started a comic-book series called 'The 99' because he looked around and said, "There are no role models for young kids, who are Muslim, who can talk about the values of Islam in a peaceful and respectful way. So he created this incredible comic -- I mean, he's coming."
Pandith said, "You have a young woman that I met in Oslo, who's coming, who is a second-generation Pakistani-Norwegian, who decided that she had had enough of being isolated and being told that she can never belong, but has actually activated a brand-new sort of Web site that's helping to mentor, who's bringing women up, who's trying to get things out there."
"Those are two stories. There are 50 more. So, it's a really important thing, globally. People are talking about the tool of entrepreneurship, in a very big way because the President has named it, and I think that's really great."
Pandith said that "the idea that the President is putting this tool of entrepreneurship forward has really set a lot of people free because they know that they don't need the okay of a government or somebody else to tell them that their idea can actually happen, but that they can actually make it happen and that the president highlighted this has been very important."