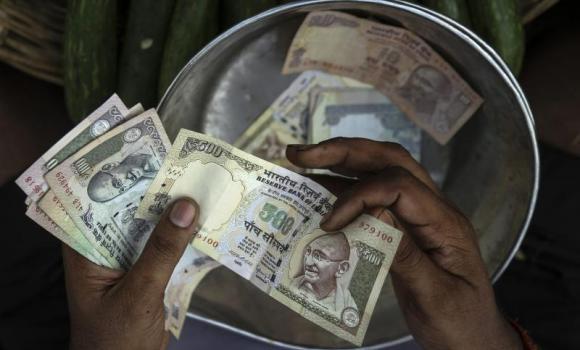 The Rupee's fall is expected on concerns that the US Fed might give a hawkish guidance.
The rupee, which has already breached the 64-mark this month, may weaken further a month down the line, as experts believe the Federal Open Market Committee (FOMC) at its two-day meeting later this month may give a hawkish guidance even if they do not begin with the rate hike cycle.
The rupee might trade at 64.50 in a month, according to a Business Standard poll of 12 currency experts.
"The way forward is negative with flows in dollar demand-driven mode from importer's fear, exporter's greed against limited support from foreign investor's supply," said J Moses Harding, group CEO, liability and treasury management, Srei Infrastructure Finance.
On Tuesday, the rupee ended stronger against the dollar due to dollar sale by banks and exporters.
The rupee ended at 63.93, against the previous close of 64.09 a dollar. The rupee had opened at 63.98 and during intra-day trades, it touched a high of 63.86 and a low of 64.01.
On Monday, the rupee had closed at a near one-month low after data showed that US employers added 280,000 jobs in May, the most in five months raising concerns of a rate hike sooner than expected.
"The rupee has been under some pressure, as foreign institutional investors (FIIs) have been pressing sales in the bond and equity markets both in May and in June so far.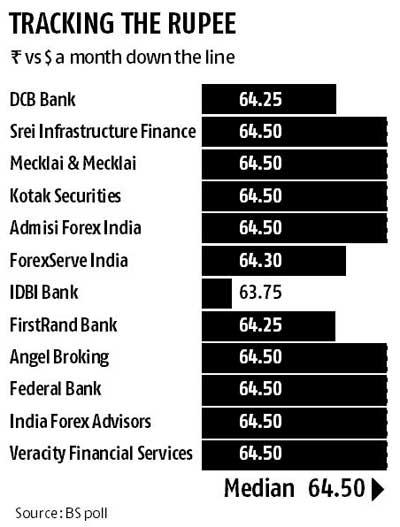 Falling Indian interest rates and other emerging market equity markets looking attractive have contributed to this," said Harihar Krishnamoorthy, treasurer at FirstRand Bank.
The US Fed will meet for a two-day meeting on June 16-17. If the guidance is hawkish then it may trigger further FII outflows from emerging markets and India may not be an exception. So far this month, FIIs have been net sellers worth Rs 5,438 crore or Rs 54.38 billion.
"Gradually, the Reserve Bank of India (RBI) will allow rupee to depreciate further. All this will be primarily for boosting exports and to take care of the competitive devaluation that is happening in China," said Suresh Nair, director, Admisi Forex India.
RBI has been building foreign exchange reserves as a step towards preparing to face the US Fed's rate hike actions. Data released on Friday showed the country's foreign exchange reserves rose $917.5 million in the week ending May 29 to $352.47 billion. RBI is expected to keep intervening in the foreign exchange market to arrest volatility.