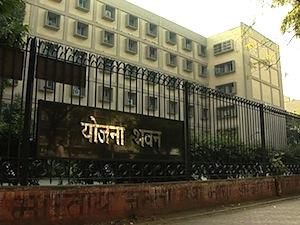 Former ministers, members of the Planning Commission and experts on Tuesday met in the Yojana Bhawan to discuss the framework of the new body which will replace the 64-year old plan panel.

"We had all met in the context of the statement made by the Prime Minister from Red Fort (on August 15).

"We have discussed what could be the new avatar of the Planning Commission," said former Finance Minister Yashwant Sinha, who chaired the meeting.

Sinha further said that all the suggestions made by the different experts have been noted and would be forwarded to Prime Minister Narendra Modi.

"They have all given some brilliant suggestions.

"All these (ideas) would be compiled and would be sent to the Prime Minister," Sinha said.

Sinha said the decision about the new body will be taken by Prime Minister Narendra Modi.

"This is a work in progress, it's not important to discuss upon the deliberations of today's meeting, the outcome is important.

"And that decision will be taken by the Prime Minister. "We also discussed upon how should the plan be allocated to states as well as upon the autonomy status to be granted to the new body," Sinha said.

Sinha said it was a long standing need to reinvent the Planning Commission
and the Prime Minister has taken a bold step.
Replying to a question on how the plan allocation to the states will be given, Kumar said it may be done through the Finance Commission.
The meeting took place in two different groups simultaneously, one headed by Sinha had previous members of the Planning Commission, while the second group consisted of economists including Rajiv Kumar and Pranab Sen.
"Old body is totally scrapped. The new body will come up and whatever body comes up, it will combine knowledge power along with some mandate for getting it executed," said Kumar.
Those present in the meeting chaired by Sinha included former RBI governor Vimal Jalan, ex-finance secretary Vijay Kelkar, ex-Planning Commission members Saumitra Chaudhuri and Y K Alagh.
Addressing the nation from the Red Fort on Independence Day, Modi had said that the 64-year-old Planning Commission, a vestige of socialist era, would be soon replaced with a new institution to address the current economic challenges and strengthen the federal structure.
"We need a new body with a new soul. . . .We will have to think about giving a new shape to the Planning Commission. . . . Very soon this new institute will start working in place of the Planning Commission," Modi had said.
He had said that it was set up to cater to the needs of earlier times and has participated in its own way in the development of the country.