Bharatiya Janata Party on Monday said Vijay Mallya was a 'Congress' baby' and accused the previous UPA govt of forcing a bank to provide a loan of Rs 3,100 crore despite his company's poor finances.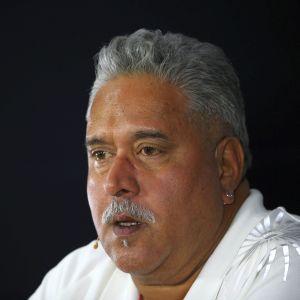 The Ethics Committee of Rajya Sabha headed by Congress veteran Karan Singh on Monday took cognizance of the issue of Vijay Mallya, who has allegedly defaulted on over Rs 9,000 crore (Rs 90 billion) bank loans.
Acting on the notices given by Opposition members, the Chairman of the Upper House Hamid Ansari earlier referred the matter to the panel.
"The question regarding Mallya was earlier raised in the House in the morning. The chairman referred the matter to the Ethics Committee. Our meeting was decided earlier. There were two more issues. Now we have taken up this third issue as well.
"We have taken its cognizance. Now we will proceed on it as per our rules," Singh said after the panel meeting.
When asked about the next meeting of the panel, the Congress leader said that a date has not been fixed as yet. "But meetings will happen," he said.
To a query as to whether the matter was discussed by members in the panel meeting today, Singh said, "the issue was not discussed. We only took cognizance of the case."
To a specific question as to what will happen in the matter, Singh quipped, "Ask any fortune-teller, what will happen. Why do you ask me?"
The 10-member committee headed by Singh comprises Satish Chandra Misra (BSP), Avinash Rai Khanna (BJP), Sharad Yadav (JDU), Sitaram Yechury (CPI-M), Mukul Roy (Trinamool Congress), Neeraj Shekhar (Samajwadi Party), A Navaneethakrishnan (AIADMK) and Devender Goud T (TDP). There is one vacancy.
With numbers in the panel favouring Opposition, the issue is likely to generate political heat in the coming days.
Leader of Opposition Ghulam Nabi Azad, Congress MP Pramod Tiwari and JD-U President Sharad Yadav were among the members who had given notice against Mallya to the chairman.
Congress members in Rajya Sabha on Monday again raised the Mallya issue, and demanded that the industrialist be brought back to India, along with former IPL chief Lalit Modi.
Congress members trooped in the Well and raised slogans half way through the Zero Hour after its member Pramod Tiwari brought up the issue. The party had raised the issue last week also.
Tiwari contended that the liquor baron was elected to the Rajya Sabha with BJP support.
Hitting back at Congress for questioning whether the Centre would seek Vijay Mallya's deportation, BJP, however, said the industrialist was a "Congress' baby" and accused the previous UPA dispensation of helping him by forcing a bank to provide a loan of Rs 3,100 crore (Rs 31 billion) despite his company's poor finances.