Ruia's-owned Essar Group is among four consortia in race to buy Royal Dutch Shell Plc's stake in four Nigerian oil fields.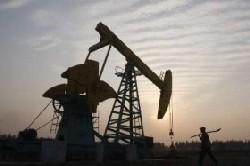 "At least one Indian group has expressed interest to buy the stakes," visiting Nigerian Foreign Minister Henry Odien Ajumogobia said.

Though the minister did not name Essar, sources said Essar has bid together with Nigerian-owned Energy Equity Resources and UK-based Sacoil.

Four consortia shortlisted by Shell as preferred bidders for four onshore blocks in Nigeria's troubled Niger Delta that it is looking to offload, include a grouping led by Perenco of France with Swiss trading firm Addax & Oryx Group Ltd and Oando Plc of Nigeria.

Another bidding group includes Heritage Oil Plc of the UK and Nigerian contractor Shoreline Energy International. Vertex Energy backed by Capital Alliance is also in race, they said.

Also in the running, though not necessarily preferred bidders, are long-standing Nigerian National Petroleum Corporation (NNPC) joint venture partner PanOcean, Nigerian independent Conoil and the Seven Energy tie-up with international construction contractor Petrofac.

Shell is divesting stakes in the onshore fields as part its plan to sell $5 billion of assets this year. The company, based in Hague, The Netherlands, has sold about $30 billion of assets over the last five years and last month said it would to sell its retail fuel business in 14 African countries for $1 billion to oil trader Vitol Group and a private-equity firm.

Shell intends naming one preferred bidder for each of the development blocks OML 30, 34, 40 and 42, although some suitors bid for all four and others indicated a preference for two contiguous licences.

The winning group will take over the 45 per cent concession equity held by operator Shell along with junior partners Total and Agip, leaving the NNPC with the same 55 per cent stake it currently holds.