Dairies cut milk procurement price by 11% in 2 months on bumper supply, but they are in no mood to pass on this price benefit to the consumers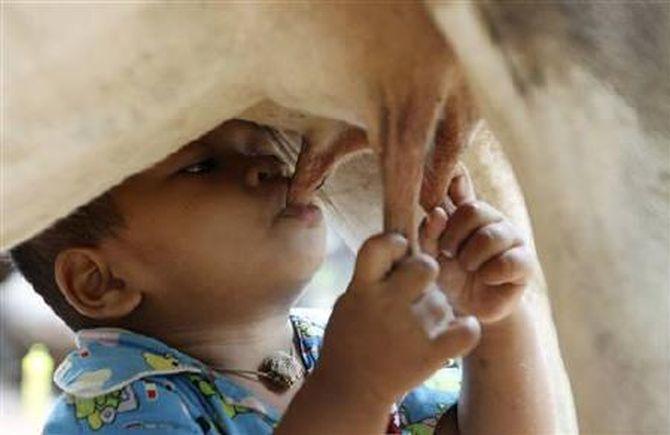 Dairies have cut milk procurement prices by 11 per cent over the last two months owing to bumper arrivals from farmers during the ongoing supply season.
Strategically, dairies have reduced milk procurement prices by Rs 3 a litre in three stages to offer it at Rs 24 a litre to farmers.
The first cut of Re 1 a litre was reported around the first week of August, when milk farmers in Maharashtra were agitating for farm loan waivers.
The second cut was announced in early September, and the third one was on Dussehra.
Anticipating the price cut to be a short-term phenomenon and probably the last such attempt in the current season, dairies are in no mood to pass on this price benefit to consumers.
They are looking to earn profits at the cost of farmers as consumers continue to pay Rs 44-48 for a litre.
"There has been a Rs 3 a litre decline in milk procurement prices over the last two months due to bumper supply. While another price cut looks grim, there is no room for a recovery in milk prices till March 2018," said Sarang Nirmal, chairman, Prabhat Group of Industries, the producer of the 'Prabhat' brand dairy products.
Normally, the peak season of cow milk begins in late August or early September. By the time the cow milk supply normalises in late October, the buffalo milk supply picks up.
Thus, the peak supply season of milk begins in August and continues till March.
Prabhat Dairy launched its corporate identity on Tuesday and set a target to achieve a turnover of Rs 2,000 crore (Rs 20 billion) by 2020, around a 10 per cent increase on an annualised basis from the current level (FY17) of Rs 1,500 crore (Rs 15 billion). The company has also raised its revised milk procurement target to 1.4 million litres every day by 2020 from 1 million litres now.
Prabhat plans to focus on farmers' education on yield enhancement skills.
"Dairies have paid milk farmers the highest of Rs 28 a litre early this year. So, the milk price benefit would be retained with dairies to compensate the fall in prices of skimmed milk powder (SMP)," said Nirmal.
SMP prices have declined to Rs 190-200 a kg, which, according to dairy sources, translate into a loss of around Rs 30 a kg loss for its producers. Industry sources estimate the cost of SMP production at Rs 230 a kg.
"It (milk procurement price cut) would average out for dairies with improvement in margins in milk procurement and loss in SMP production.
During summer, when the milk supply remains slow, dairies pay high prices to farmers. There will be no exorbitant margin benefit for dairies," said Shirish Upadhyay, consultant, Parag Milk Foods, the producer of the Gowardhan brand milk and cheese.
Photograph: Samrang Pring/Reuters