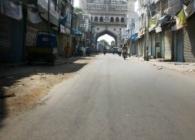 Entrepreneurs in the state have urged representatives of various political parties to ensure a peaceful atmosphere for the smooth functioning of the industrial sector, which had been affected by frequent bandhs and other disturbances in the past one year.
"We want a state that is bereft of bandhs," Indian Machine Tool Manufacturers Association president, M Lokeshwara Rao, told the politicians at a round table discussion on 'Conducive Environment for Industrial Growth in Andhra Pradesh' organised by the Confederation of Indian Industry (CII) here on Friday.
Similar views were expressed by president of the Association of Lady Entrepreneurs of AP, Rama Devi, and Sreeram M M, chairman, Industrial Development Committee of the Federation of Andhra Pradesh Chambers of Commerce and Industry (Fapcci).
"We want you to assure a bandh-free environment," Sreeram urged the leaders of the Congress, Telugu Desam Party (TDP), Telangana Rashtra Samithi (TRS), Praja Rajyam Party (PRP), Communist Party of India (CPI), CPI (Marxist), Bharatiya Janata Party (BJP), Lok Satta Party (LSP)& and Majlis Ittehadul Muslimeen (MIM) who took part in the conference.
President of AGI Glaspac, D Arun Kumar, said it was the responsibility of the political parties not to put any spokes and to ensure smooth functioning of the industry. "The political parties must realise that delivery of material to the clients in time is paramount in today's competitive world," he said.
In response, TRS leader, B Vinod Kumar, said the industrialists should realise that politicians were social engineers and bandhs were related to public issues and were not observed "just like that."
CPI state secretary, K Narayana, asked industrialists for an assurance that they would pay minimum wages to the workers so that he would also assure that his party would not cause any disruption of the industrial activity.
Earlier, the leaders of the political parties told the entrepreneurs that they were all for industrialisation of the state as they believe that industrial development would eradicate the problem of unemployment. They, however, wanted the industrialists to focus on inclusive growth and environmental protection.
BJP state president, G Kishan Reddy, lamented that it was unfortunate that the entire process of development in the state was currently politicised. He emphasised that all political parties should have a consensual approach towards the issue of development.
Narayana said communists were not against industrialisation but warned the industrialists that the people would revolt if fertile and irrigated land was acquired forcefully for industrialisation and special economic zones (SEZs).
Referring to acquisition of thousands of acres for projects that require much less extent of land, PRP leader, K Vidyadhar Rao, told industrialists that "there should also be a limit to your ambition."
Stating that thermal power projects with a total installed capacity of 46,000 Mw were lined up in the state, LSP president, Jayaprakash Narayan, said  that there should  be a proper assessment of the power requirement of the state. "Tell me on what yardstick you want to have more than 20,000 Mw?" he asked pointing out that large scale thermal power generation leads to environmental pollution.
The LSP president also sought setting up of an independent authority to examine the location as well as the extent of land required for various SEZs and industrial projects. He said that there should be international competitive bidding for allotment of mining projects besides imposition of windfall profit tax.
TDP leader Y Rama Krishnudu emphasised the need for skill development and inclusive growth. State Congress spokesperson, N Thulasi Reddy, said SEZs were established in 130 countries across the globe, including China.
Former chairman of CII (AP), Y Harish Chandra Prasad, said that the confederation had decided to hold similar conferences in the districts where micro-level issues would be taken up.