At a time when most airlines have cast a weary eye towards expansion, West Asian airline Emirates is expanding its presence in the US as it looks to tap into the growing traffic between India and that country.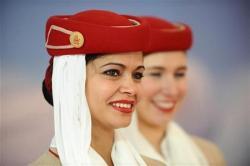 India has gained centre stage in the carriers' plans as it is among the top 20 traffic-generating countries in the world.

In 2011, outbound traffic from India to the US was around 0.6 million while from US to India was 0.9 million, and it is rising at around 16 per cent annually, according to data from the office of Travel and Tourism Industries in the US.

The traffic from India has been climbing even as globally it has been on a downward spiral because of high fuel prices and the economic slowdown. The airline says the US continues to be a popular destination among students and corporate heads.

This offers a huge opportunity for Emirates, which already enjoys a leadership position among foreign carriers in India with around 13 per cent of the market share when it comes to outbound traffic.

Besides, with the US under-represented in the portfolio of West Asian carriers, it is also an opportunity for Emirates to expand its presence in the US and leverage its popularity among Indians flying abroad.

According to a report by Centre for Asia Pacific Aviation (CAPA), just 2.4 per cent of the seats with Arab carriers are deployed on the route, as compared to 31.3 per cent seats into Europe, 18 per cent in Asia and 8.8 per cent in Australasia. Still, the US accounts for 8-10 per cent of the total revenue, which means it is a lucrative sector.

For Emirates, besides rounding out its global networks, expansion in the US will also help it hedge its risks.

"The uncertainty in Europe and the lower penetration by the Gulf carriers into North America creates opportunity for both network expansion and to diversify away from markets that could be risky if air travel to Europe does weaken", says the CAPA report.

Keen to grab a big chunk of growing India-US passenger share, Emirates is strengthening its US network and filling out gaps by adding more destinations.

The carrier serves seven of the top 20 US cities. It recently added service from Dubai to Dallas Fort-Worth, Seattle and Washington D.C after a lull of almost four years. It is also expanding into South America, adding flights to Rio and Buneos Aires.

It is also exploring codeshare agreements with a host of other operators to connect the far-flung regions. Recently, it signed a one-way codeshare agreement with JetBlue. The agreement will enable the two airlines to book their passengers on a particular route on the same flight.

The carrier has also stitched
up similar agreements for destinations such as New York and Boston, Burlington, Buffalo, Charlotte, Chicago, Orlando, Portland, Dulles, among others.
In India, too, it has a sizeable presence with flights to Dubai from ten cities: Ahmedabad, Bangalore, Chennai, Kochi, Delhi, Hyderabad, Kolkata, Kozhikode, Mumbai and Thiruvananthapuram.
By using Dubai as a hub to connect passengers from India to the US, the airline also scores over rivals when it comes to journey time.
With an inflight time of 20 hours 5 minutes, Emirates has an advantage over other similarly positioned airlines such as Jet, Cathay Pacific, Etihad, Air France and Lufthansa which take an hour more to cover the distance, but has to compete against Air India and British Airways whose direct flights take only 15 hours and 19 hours, respectively.
But what Emirates is losing in terms of time, it perhaps aims to make up by adding more add-on services and spacious aircraft. The carrier, which already has the largest fleet of wide-body planes (777s and A 380s), is planning to buy 210 more at a cost of over $62 billion to add to its current fleet of 190.
It also offers, among other services, exclusive lounges and chauffeur-driven cars for pick-up and drop. In terms of prices, the airline's fares are neither at the highest end nor at the lowest spectrum.
The pricing strategy coupled with its other add-on offerings is winning customers. Essa Sulaiman Ahmad, vice-president (India and Nepal), Emirates Airlines says, "We have many passengers who specifically book on the A380, it being a very quite aircraft. The extended range of Boeing 777 allows for non-stop travel which previously required for stopover, enhancing customer experience."
Keyur Joshi co-founder and chief commercial officer of travel agency Makemytrip says that Indian travellers are particularly attracted by its wide connectivity, and the familiarity that Dubai has to Indians.
Emirates is keen to keep this community of fliers engaged with its brand and generate a steady stream of fliers. It has launched several initiatives to create an exclusive community of Emirates flier through its Hello Tomorrow campaign.
Recently it launched a platform that allows its customers to connect with other customers through mutual passions. "The platform serves to build a global connection with the brand with everyone around the globe," says Ahmad.
However, there may be a stumbling block for the airline in the bilaterals with India. The carrier has already expended its current quota of around 54,000 seats out of India and is keenly pursuing the government for increasing this number.
However, India says the bilaterals can be raised only after Indian carriers have also fully utilised their quota.