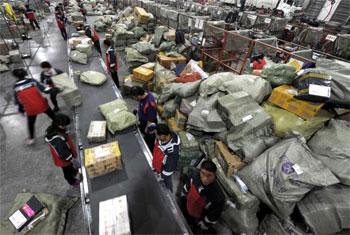 Increments for employees at leading e-commerce companies are likely to be 10 to 30 per cent.
Sources at Delhi-based Snapdeal said the company's average salary rise was pegged at 20 per cent.
Sources at India's largest e-tailer, Flipkart, said the minimum rise at the company was 10 per cent.
Till last year, the pay rise at Snapdeal was 15 to 17 per cent. Flipkart refused to share details.
A large company in the sector, Amazon India, concluded appraisals for its employees and will announce increments later this month.
Flipkart and Snapdeal have expanded their employee stock ownership plans by allocating more share capital.
These plans are attracting talent from traditional retailers.
"For 2014-15, the average pay rises have worked out to 20 per cent, which is higher than last year's," said Saurabh Nigam, vice-president, human resources, Snapdeal.
The rises in the sector follow an increasing churn rate.
"Salary is not a constraint for e-commerce companies, they want talent and will pay high," said Kris Lakshmikanth, chairman of Headhunters India.
"Most e-commerce companies are growing fast and hiring big. They will be willing to pay more to retain talent," he added.
Despite being technology-driven, India's 10 leading e-commerce companies are looking to absorb at least 15,000 professionals by December.
According to sources, Snapdeal, which is setting up an office in Bengaluru, will hire 1,000 employees over the next few months.
Traditional retail companies, not known as the best paymasters, were willing to pay far higher salaries for employees in their e-commerce initiatives, said a source.
"A retail company is looking to hire more than 1,000 people in the coming months and it is willing to pay high," the source said.
Double-digit increments for e-commerce employees were in addition to higher salaries than in traditional technology sectors, C K Guruprasad, principal at Heidrick & Struggles, said.