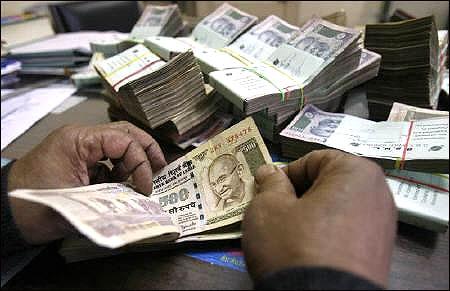 The sharp fall in rupee since the beginning of May will make things difficult for the central bank which is on the path of easing the monetary policy to revive growth. Since early May, the rupee has fallen more than 8%, and is the worst performing currency in Asia.

The fall in rupee will have adverse impact on both fiscal and current account deficit (CAD).

According to market participants, the fall in rupee will bring back inflationary pressure because the imports more than one third of its crude oil requirements.

The weakening rupee will increase the import bill which will also affect fiscal deficit and also widen the current account gap which was 6.7% for the quarter ended December, The CAD figures for the fourth quarter will be published this week.

"The sharp and sustained weakening of rupee will make it difficult for the Reserve Bank of India to cut rates in June. The rupee depreciation complicates near-term macro management – pushing up inflation, increasing fuel subsidies, and putting pressure on unhedged corporate balance sheets," said Sajjid Chinoy, India Economist, JP Morgan.

"The classical central bank response to a depreciating currency is to raise rates as a means of mounting a defense. India's growth dynamics don't warrant a hike
now. But it is safe to say, rate cuts – which lower the opportunity cost of holding Indian fixed income assets -- look very unlikely at the moment," he added.
A section of players also said RBI should continue to cut the interest rate despite weakening rupee as inflation has fallen.
"We continue to expect the RBI to cut policy rates by 25bp on June 17 if the rupee stabilizes this week with the US Dollar settling about 1.30 per Euro. Further, measures to contain gold imports should also save US$5-10bn. Finally, the Met also expects the monsoons to continue to advance on time," said Indranil Sengupta, India Economist, Bank of America Merrill Lynch.
The country's headline inflation slowed for a third straight month in April to 4.89%, a level seen comfortable for the RBI to persist with monetary easing to revive a flagging economy. April's inflation was the lowest since November.
The pressure on rupee is also because RBI has not intervened so far but has expressed concerns over the volatility in the exchange rate. RBI has also reiterated that it is not targeting any exchange rate.
"Current rupee depreciation is part of a global emerging market currency sell-off. More generally, the current phenomenon is a repricing of emerging market assets as treasury yields rise. In this environment, RBI intervention is unlikely to be efficacious on a sustained basis," Chinoy said.