The Durban Summit may, on Wednesday, finally agree on a roadmap to set up a BRICS Development Bank, although issues like capital, membership and governance are still bogging the plan.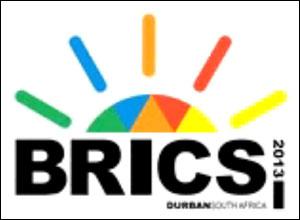 Indian negotiators are pouring over the draft of the Durban Summit that may come out with its recommendations that can form the document for setting up the first South-South bank.
The summit declaration is likely to say that formation of a BRICS bank is "feasible and workable".
A senior Indian negotiator told journalists that even finalisation of the document will take one year -- 2014. And it may take a couple more years to actually start operations of the bank.
The first issue to be resolved is that of capital for the proposed bank. The original idea was to seek a contribution of $10 billion from each of the five BRICS members (Brazil, Russia, India, China and South Africa).
There is some reservation on the part of India over Chinese enthusiasm to pick up extra stakes in capital infusion should some members have problems in their contribution.
New Chinese President Xi Jinping has supported South African presidency in prioritising the establishment of the bank and contingent reserve arrangement.
The other issue is whether to open the membership to advanced economies to make it a bank on the lines of the Bretton Woods institutions--World Bank and International Monetary Fund -- as part of efforts to democratise the international financial architecture.
The third is about governance like whether it should be concessional lending or at market rates of interest.
The sources said while concessional rates of interest would be a good political move, there is another view that it would be better to go for market rate of interest keeping in view the financial viability in the long run.
The issue of quotas and voting rights in the proposed bank was also one that is bogging negotiators. India is not for a situation faced in World Bank and IMF where the US has a dominating role with its powerful voting rights.
Finance Minister P Chidambaram will attend a meeting of the BRICS finance ministers in Durban on Tuesday to finalise their report to the heads of government meeting on Wednesday.
Prime Minister Manmohan Singh is heading the Indian delegation to the Summit.
Another point of discussion is whether the proposed bank should confine itself to funding infrastructure and development or whether it can go beyond.
Sources said there is reservation on the part of Russia to admit Egypt as a member of BRICS.
Officials said the focus of the Summit would be on Africa since it was being held for the first time in African soil.
The theme of the Durban Summit is "BRICS and Africa: Partnership for Development, Integration and Industrialisation.