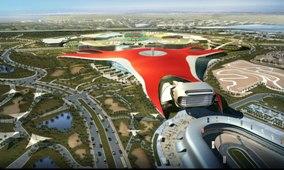 Italian sports car maker Ferrari is considering teaming up with an Abu Dhabi property developer to bring Ferrari-branded luxury villas to Abu Dhabi.
The announcement has come days after Aldar Properties opened world's largest Ferrari merchandise store in Dubai this week.
Aldar revealed the plan on Thursday when it confirmed the completion of the shell of the first Ferrari World theme park on the $40 billion Yas Island leisure destination.
The park is expected to open late next year, Aldar said, after originally being slated to be ready for Sunday's Formula One race in Abu Dhabi.
There was "a massive possibility . . . of creating further developments with Ferrari," Aldar Properties chief commercial officer Mohammed al Mubarak said.
Mubadala Development, strategic investment arm of the Abu Dhabi government and a shareholder in Aldar, took a 5 per cent stake in Ferrari in 2005, opening the way for joint ventures with the iconic Italian sports car maker.
Piero Ferrari, vice chairman of Ferrari and son of the company founder Enzo Ferrari, said: "There may be other ways to develop the Ferrari brand, so we are talking with Aldar to see if there are new opportunities."
Abu Dhabi was the first place "we found real interest to invest in the Ferrari brand and develop this concept of the theme park," he said.