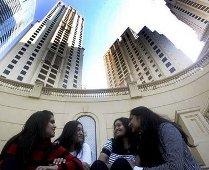 The Dubai Properties Group, real estate developer and part of Dubai Holding, has unveiled a new corporate strategy, replacing several senior executives and outlining the direction the company would take to enter the next phase of growth.
Dubai Properties Group develops and manages properties, communities and destinations. Through its subsidiaries Salwan and Dubai Assets Management, DPG also provides end-to-end solutions for a variety of services, including sales, leasing, facilities management and security.
As a key part of the new strategy, the company has replaced several executives. Khalid Al Malik, Group CEO, announced on Sunday the Group's new leadership team, including heads of both corporate functions and business units.
The team, led by Al Malik, will oversee essential corporate functions and manage the companys augmented portfolio of business entities.
Malik also announced a strengthened corporate governance structure to help manage the business.
The variety of DPGs portfolio covers properties such as Al Razi and Office Park; communities such as the Executive Towers, Shorooq, and Leyan; destinations including Jumeirah Beach Residence and, DUBAILAND, as well as retail offerings, including The Walk and Bay Avenue.
A planned merger between three of Dubai Holding's property firms Dubai Properties, Sama Dubai and Tatweer and Emaar Properties was called off on December 9.
Al Malik confirmed that David Anderson has been appointed as the Group's chief financial officer, while Amjid Javaid Sheikh takes on the role of senior manager, heading compliance and risk management.
Fareda Abdullah has been named chief operating officer and Jayne O'Brien has been appointed as chief marketing officer.
"I am confident our team of dedicated professionals will together lead this company through to its next phase of growth.
The calibre and experience of our new corporate team will play a critical role in our journey to becoming a world-class organisation", Al Malik said in statement.
Moreover, Mohammed Al Habbai has been appointed as chief executive officer of DUBAILAND.
Billy Daly remains the CEO of Dubai Asset Management, while Saeed Bushalat continues as the CEO of Salwan LLC, DPG's property management service company, the statement added.