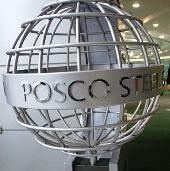 South Korean steel giant Posco and state-run SAIL are likely to come out with the detailed project report for jointly setting up a 1.5 million tonne per annum steel plant in Bokaro, Jharkhand in a month's time, a top government official said on Tuesday.
"Some discussions have been carried out and we are in the process of preparing a detailed project report (DPR) which will establish the techno-economic feasibility of the project. It will take roughly a month (to prepare the DPR)," Steel Secretary P K Mishra said.
He was speaking to reporters in New Delhi on the sidelines of a Ficci conference. Mishra said all other decisions including the issue of having an equal stake for both the companies will be taken only after the DPR is prepared.
"Once we see the report and techno-economic feasibility, then the issues like management control and other issues will be discussed," he said, when asked about the news reports that Posco wants 51 per cent stake in the company.
Some news reports have suggested that the South Korean steel giant is not willing to settle for anything less than a majority stake in the proposed joint venture and has also refused to transfer it's FINEX technology to SAIL.
Last month, a delegation led by Steel Secretary had also gone
to South Korea to iron out the issues between the two companies and had met senior officials of the Korean company.
In May, both the companies had signed a memorandum of understanding to set up a 1.5 MTPA integrated plant in Bokaro to produce high grade steel from low-grade iron ore and non-coking coal by using the world's third largest steel company's FINEX Technology.
Asked about the proposal of sharing 26 per cent profits by the miners with the affected people, provided in the mining bill, the Steel Secretary said that 'we are saying PSUs should be given a special consideration'.
The new bill, which seeks to expedite the grant of mining rights in a transparent manner, has been given a final go ahead by a ministerial panel led by Finance Minister Pranab Mukherjee last week.
Talking about the growing steel demand in the country, Mishra said that estimated steel production in country could go upto 75 to 80 million tonnes by 2012 and the government is in the process of revising its estimates.