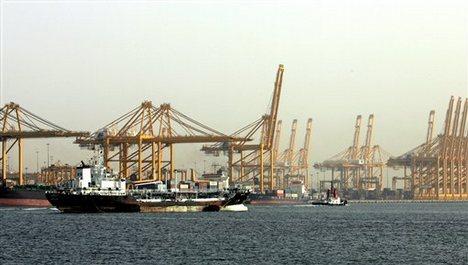 Dubai Port World, one of the largest global port operators, said on Friday it is in talks with major ports in India to modernise the port infrastructure, and is hopeful of developing Kulpi project in West Bengal, pending for 17 years now.
"We are in advanced talks with the Central and state governments on Kulpi and are making progress," said Anil Singh, Senior Vice-President, Managing Director, DP World Subcontinent.
Dubai-based DP World is developing India's first International Container Transhipment Terminal at Vallarpadam, under a public-private-partnership with Cochin Port and the government of India at an investment of Rs. 6,250 crore (Rs. 62.50 billion) .
The first phase of the project is dedicated to the nation by Prime Minister Manmohan Singh in Kochi.
DP World has 49 terminals, including in Mundra, Chennai and Visakhapatnam.
Vallarpadam Port's capacity would be expanded to around 4 million TEUs (twenty-foot equivalent unit) by 2016 from the one million TEU at present.
"We are long-term investors. There is a shortage of port capacity in the country. India needs further port capacity addition and Kulpi is still viable," said Singh when asked about the Kulpi project.
The Kulpi port at south 24 Parganas in West Bengal was planned to be set up by Bengal Port, a company in which Keventer Group holds 44.5 per cent, DP World another 44.5 per cent and the balance 11 per cent is with the state government.
However, it got delayed, as stakeholders could not arrive at a consensus regarding sharing of the dredging cost with the Kolkata Port Trust, another major port.
While DP World officials were against shouldering the dredging costs of Kolkata and Haldia ports, Kolkata Port Trust wanted them to share some of the cost burden since all parties were slated to use the same navigational system.
DP World acquired the Kulpi project as part of its $6.8 billion acquisition of London-based Peninsular and Oriental Steam Navigation Co.
Addressing a press conference, Chairman DP World Sultan Ahmed Bin Sulayem said DP World is in discussion with other major ports as well for infrastructure projects.
"We are in continuous discussions with different port authorities. India is short of large ports, short of efficient operations and the economy is growing. We are committed to make investments in India," said Sulayem.
DP World officials also said Vallarpadam terminal will be completed in three phases.
In the first phase, the 600-meter-long quay with a draught of around 14.5 metres will be able to simultaneously serve several of the world's largest container ships- those with a nominal capacity of around 10,000 TEU-with a capacity to handle one million TEUs annually.
Capacity will further be expanded to around 1.5 million TEUs in the second phase and once fully commissioned, capacity will be around 4 million TEUs.
While, the new terminal would be open to international transhipment traffic, domestic traffic will continue to go to the Rajiv Gandhi container terminal at Cochin Port Trust.
The dredging process which would entail the terminal to higher draft of around 14.5 metres is expected to be completed by March-April 2011.
"The total dredging requirement is of around 26 million cubic metres, out of which around 1.2 million cubic metres remain to be dredged. This is expected to be completed in the next two months time," said N Ramchandran, Chairman, Cochin Port Trust.
Further, as per the agreement, container ship traffic handled at the existing Rajiv Gandhi container terminal at Cochin Port Trust is to be shifted to the new Vallarpadam terminal.
However, with a recent Kerala High court order, operations at Rajiv Gandhi terminal will continue for the time being.