Concerned over the slow pace of agricultural growth, Prime Minister Manmohan Singh today called for doubling it to 4 per cent in order to achieve inclusive growth and food security.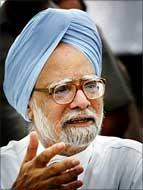 "We must endevour to raise our agriculture growth from around 2 per cent per annum to 4 per cent. I have no doubt that we can overcome these challenges, given sustainable efforts and an approach different from business as usual," Singh said at a convocation function of the G B Pant University in the Kumaon region of Uttarakhand.
"To raise production, we must increase our farm yields because the scope for increasing the area under cultivation and irrigation is limited. Yields must go up, particularly in parts of India where they have lagged," Singh said.
Stating that agriculture production should increase at a fast rate to provide food security, the prime minister said growth could not be truly inclusive if it did not benefit farmers, especially those who were small and marginal.
In the last six years, the Centre has endevoured to give the highest priority to agriculture. A number of new centrally-sponsored programmes had been launched to increase investment and to tap the unused potential for achieving higher production, he said.
The Rashtriya Krishi Vikas Yojna has been launched with an allocation of Rs 25,000 crore (Rs 250 billion).
He said without the solid support of agriculture scientists and technologists, it would be impossible to achieve production targets. India commands about 2.3 per cent of the world's land area and about 4 per cent of fresh water resources but feeds only 17 per cent of the total population.
Agriculture extension is another area which needed urgent attention, particularly from state governments, he said. "We must innovate our extension models and specifically integrate the needs of farm households so that farmers get the latest information about technologies."