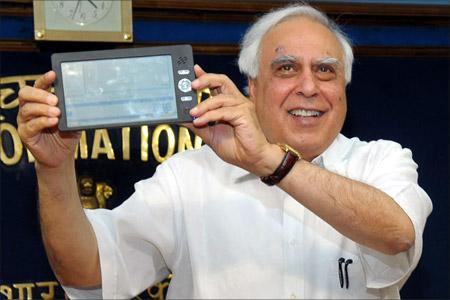 Gujarat Chief Minister Narendra Modi once again hit out at Union Human Resource Development Minister Kapil Sibal on the issue of Aakash tablets on Sunday.
Modi asked him to not to resort to 'cheap gimmicks' and 'make honest effort to ensure delivery of good quality computing and access device to youth'.
"Instead of cheap gimmicks, the minister (Sibal) should first inform the nation on his promise to provide Aakash tablet to 10 lakh (one million) youth in 2011!," Modi wrote on social network site Twitter. "In future, Mr.Sibal should make honest effort to ensure delivery of good quality Computing & Access device to our youth," he added.
Modi was reacting to Sibal's statement of September 28 during the release of Akash 2 tablet in New Delhi. Sibal had asked Modi to keep education away from politics and also sent him a couple of Aakash tablets.

"He (Modi) lives in netherworld, I have shown him on land that Aakash is in your hand," Sibal had told reporters on Friday last. Sibal's comment came as a reaction against Modi's criticism of the delay in delivery of Aakash tablets. The Gujarat chief minister had said that much-hyped Aakash tablets are yet to come down on earth.
Following Modi's statements, Sibal sent him two Aakash tablets along with a letter on September 26. "Your statement has disappointed me. Education is a collaborative venture beyond the pale of politics and we need to work together in the best interest of the children of the country," Sibal had said in his letter to Modi.

Noting that the advanced version of the device Aakash 2 has been developed by IIT Bombay with more applications, Sibal in his letter had asked Modi for his feedback hoping that Modi would be satisfied with the hard work that has been put in by the institutions and the people.
'Aakash' project is a scheme of the MHRD under which a million low cost tablet computers are planned to be distributed in the colleges. The tablet is billed as the world's cheapest personal computer.