Jubilant Foodworks Ltd (JFL), which operates quick-service restaurants such as Domino's Pizza and Dunkin' Donuts, is planning another rise in prices soon, taking the cumulative rise this financial year to 6-6.5 per cent.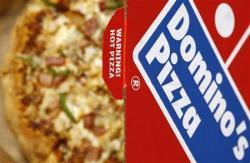 The company's management on Wednesday confirmed a price rise of 3-3.5 per cent in the coming weeks. In the first quarter of the financial year, Jubilant had raised prices about 3 per cent.

Chief financial officer Ravi Gupta told Business Standard prices would rise only for Domino's products, while those of Dunkin' Donuts products would remain unchanged.

Over the past five to six years, the company has been raising prices by about 6 per cent annually, with the exception of FY12, when there was a price rise of 12 per cent, in three tranches.

Though Gupta admitted Starbucks and Pizza Hut were challenges for Dunkin' Donuts and Domino's, respectively, he added rising disposable incomes in the country offered room for growth to several players.

On
the price front, he said Dunkin' was aggressive.
JFL is in talks with multiple companies to bring new international brands into India. Gupta said these wouldn't be fine-dining brands, as the company wanted to continue in the quick-service restaurant segment. Senior company executives refused to divulge information on these companies.
Dunkin', which is 'Indianising' its spread this Diwali, is expected to innovate for other festivals over the coming months, too.
Currently, it has five outlets in India. The company aims to increase this to ten by end of the financial year.
Over four to five years, it plans to open 80-100 Dunkin' outlets across the country. Domino's, which had 515 outlets as on September 30, plans to add another 60 stores by end of this financial year.
For new stores, JFL is considering capital expenditure of Rs 150 crore (Rs 1.5 billion) this year. For the quarter ended September, the company reported an income of Rs 342 crore (Rs 3.42 billion), a rise of 42 per cent, compared with Rs 240 crore (Rs 2.4 billion) in the year-ago period.