Federation of Indian Airlines has appealed to DGCA to extend notice period of flyers from 6 months to a year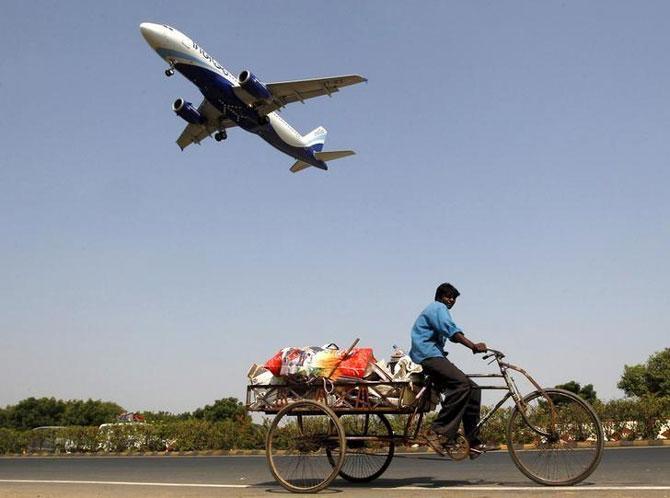 Older airlines and new carriers have trained guns on each other over domination of the Indian sky. The bone of contention is pilots.
Threatened by recent entrants poaching expert fliers, incumbents, including the state-owned Air India, have united under the banner of the Federation of Indian Airlines (FIA) and approached the government to increase the notice period after resignation for pilots to a year. At present, it is six months.
The sector regulator, Directorate General of Civil Aviation, has asked the airlines for their views on the suggested amendment to the regulation.
New carriers, such as Vistara and AirAsia, are obviously irked by the development.
"The new airlines have opposed the move and would like to have a status quo on this," said a DGCA official.
Where are the growth drivers
I
ncumbent airlines, including Air India, want one-year notice period for pilots wanting to leave the organisation
V
istara and AirAsia want the notice period to remain at 6 months
P
ilots ask the DGCA to reduce their notice period to three months
P
ilots have also threatened to seek legal help if notice period is increased to one year
A
t present, India has 5,000 commercial pilots
A
ccording to a KPMG-Ficci survey, Indian skies would need 9,000 more pilots in the next two years
Sources say that Vistara has agreed for an extension to one year only for pilots moving to foreign carriers. A Vistara spokesperson agreed it has shared views with DGCA but refused to divulge details.
The aviation sector in the country is now in the pink of health thanks to soaring traffic. They have made massive expansions in anticipation of higher growth, fuelled by rising disposable income among the middle class.
Data from KPMG-Ficci survey reveal the sector would need close to 9,000 pilots in another two years. At present, there are a little more than 5,000 commercial pilots.
Pilots, too, are not very happy with FIA's move. They have, in turn, asked the regulator to decrease the notice period to three months.

Their petition claims that a six-month notice period helps operators exploit pilots by depleting their flying hours, so that the pilot concerned cannot start flying immediately with the next company.

Pilots need to operate one flight in the last 30 days in order to perform their duties. Also pilots are expected to undergo simulator checks every six months in order to keep their licence valid.
"This is a form of intimidation to dissuade a pilot from resigning in spite of better opportunity," the petition says.
An IndiGo spokesperson, however, said all the members of FIA had sought the extension in the notice period of pilots.
A senior executive of another airline, which is a member of FIA, said it took almost three years to prepare a captain and mass poaching could lead to serious operational repercussions.
"It's not as simple as hiring another employee. A pilot needs to be trained by the airline. Too many resignations can lead to large-scale cancellation of schedule and sudden rise in fares," the executive said.
However, if the FIA plea were accepted, DGCA might face a legal hurdle.
A senior member of Indian Pilots' Guild, which represents the pilots of Air India wide-body aircraft, said they will approach the court if the notice period was increased. "We are discussing the issue with other airlines and we will move the court if the government takes such a step."
Experts, too, claimed the move would not stand legal scrutiny, as the DGCA has to establish it was in public good.
"The DGCA is acting like an autocratic state, passing arbritary orders. The last time the notice period [for pilots] was extended… because flights were being cancelled due to mass resignation, no public inconvenience has happened now," said Shakti Lumba, an aviation analyst who has worked as head of operations at IndiGo.
Photograph: Amit Dave/Reuters