With India set to be the world's most populous country by 2030, there is a growing need to control population through better use of contraceptives, says Abhishek Waghmare.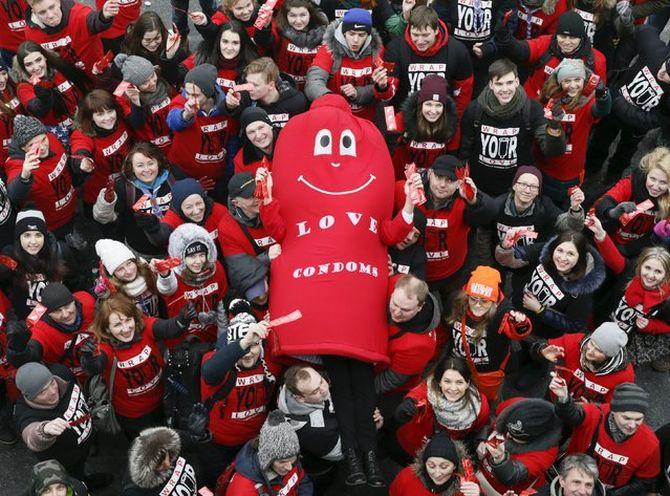 On December 11, the information and broadcasting ministry told television channels to not air advertisements for condoms, "which are for a particular age group", between 6 am and 10 pm.
The reason given by the director of broadcasting was that these could be "indecent/inappropriate for viewing by children".
In an official memorandum to the Rajasthan high court, hearing a petition against this advisory, the ministry has clarified that it "only pertains to sexually explicit content".
About 100 years ago, Raghunath Karve, a Mumbai-based teacher and son of late Bharat Ratna awardee Dhondo Keshav Karve, published a periodical named Samaaj Swasthya (Public Health).
It popularised teachings on sexual health by disseminating knowledge about safe sex and advertising about condoms, even selling these to the needy.
How much does India need condoms -- and other methods of contraception like sterilisation and oral pills -- in 2017?
About 56.3 per cent of Indians used contraception -- any method, including condoms, pills, sterilisation and intra-uterine devices -- in 2015-16, down from 53.5 per cent in 2005-06, according to the national family health survey (NFHS) data.
Prevalence of family planning had increased gradually till 2006. Male sterilisation is at a several decade-low; female sterilisation is also on a decline.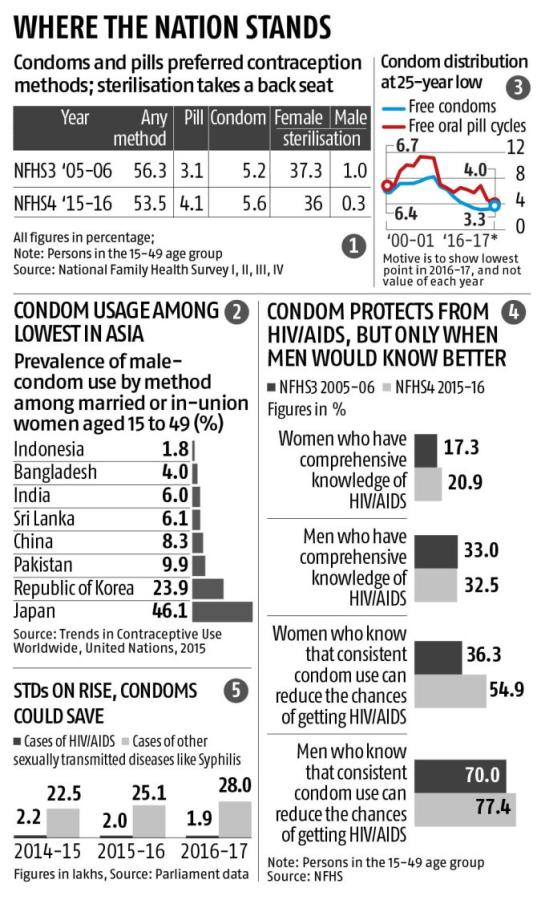 Chart 1: Condoms and pills preferred contraception methods
Use of condoms as a method of family planning is on the rise but below other countries.
When India is slated to become the most populated country on the globe in 2030, there is a growing need to control population growth in states where fertility rate is still high.
Chart 2: Condom usage among lowest in Asia
Though less condom usage does not necessarily mean family planning is in bad shape (Germany has one per cent prevalence), the low prevalence in India is when other methods of contraception are also on a decline.
Following the AIDS campaigns of the 1990s, the government distributed condoms at public places with greater vigour till 2007 but use subsided to the lowest in 25 years for 2016-17.
Chart 3: Free condom distribution at 25-year low
Bihar, Uttar Pradesh and Madhya Pradesh/Jharkhand have a fertility rate (TFR) of 3.2, 3.1 and 2.8 children born per woman, respectively, against the national average of 2.3 and more than the replacement rate of 2.1 that stabilises a country's population.
The number of condoms marketed under the social marketing scheme has reduced in the past decade, from 1.1 million a year in 2006-07 to 400,000 a year in 2016-17.
When present times are marked by effectively unlimited mobile broadband at throwaway prices, the I&B advisory (December 11) also cites the Cable Television Rules, 1994, to suggest condom advertisements "endanger the safety of children" and "create in them any interest in unhealthy practices".
While women with comprehensive knowledge about the human immune-deficiency virus (HIV) and Acquired Immune Deficiency Syndrome (AIDS) rose in the decade of 2006-2016, the proportion of men knowing about HIV/AIDS dropped marginally from 33 to 32.5 per cent.
Chart 4: Condoms save from HIV
Data from the same source, NFHS, says both men and women increasingly know that consistent use of condoms can reduce the chances of getting HIV/AIDS.
The minister for health recently told the Lok Sabha that the incidence of sexually transmitted diseases like syphilis has risen in the past three years.
Chart 5: STDs on rise, condoms could save
Condoms became an increasingly preferred mode of family planning at the turn of the century, with an aggressive advertising campaign about sexual health by the government and an advertising boom in the condom manufacturing industry.
"The potential factor contributing to the condom's popularity may be active social marketing programmes and commercial advertising," notes an article in the Indian Journal of Medical Research (Acceptability of male condom: An Indian scenario, Indian J Med Res 140 (Supplement), November 2014, pp 152-156).
Various reports put the growth in sale of condoms (as a result of increased preference) in the commercial contraceptives market at about 15 per cent compounded annually.
Photograph: Valentyn Ogirenko/Reuters