The divestment of Bharat Petroleum Corp­oration (BPCL) may hit a fuel price hurdle, according to officials dealing with the matter.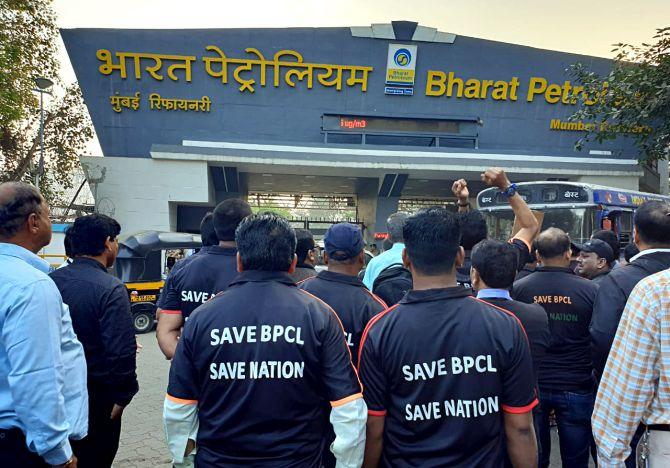 They pointed out that the inconspicuous administered price regime could hamper the prospects for potential buyers of BPCL.
A senior oil ministry official said public-sector oil-marketing companies (OMCs) take a hit when they sell petrol, diesel, and liquefied petr­oleum gas (LPG), three of the most popular petroleum products in the country.
"The oil firms can recover this hit later when crude oil prices mellow down," the official said.
In Delhi, the retail price of petrol is hovering around Rs 105 a litre and diesel at Rs 94 a litre.
The oil companies are bearing a loss with their existing marketing margin of Rs 3-4 a litre being trimmed.
At Rs 884.50 apiece for a domestic (14.2 kilogram) cylinder, the OMCs are taking a hit of around Rs 100 a cylinder.
Despite the price moderation, these are the highest prices at which these petroleum products have been sold in the country.
According to a senior oil company official, public sector undertaking (PSU) oil companies are carrying out daily price revision for petrol and diesel since June 2017.
"In the daily pricing system of petrol and diesel, the impact of higher international prices is passed on in retail prices gradually over a period.
"However, presently there has been a major surge in international prices and the full impact on retail prices is yet to be passed by the oil companies," the official said.
A major chunk of the auto fuel price in the country consists of state and central taxes.
As on October 1, when petrol sold at Rs 101.89 a litre and diesel at Rs 90.17 a litre in Delhi, the cost of petrol (excluding taxes) was Rs 41.63 and that of diesel Rs 42.58 a litre.
Effectively consumers continue to pay more than twice the cost of auto fuels due to high taxation being maintained by the Centre and states.
While petrol and diesel prices have officially been deregulated, the Centre continues to nudge the OMCs and keep them under check.
It is being said that the probable new owner of BPCL may not want to adhere to these unofficial price regulations.
But the Union government wants to officially continue regulating LPG prices in the country and the new promoter of BPCL would be mandated to adhere to such regulation.
Oil ministry officials aware of the developments told Business Standard they intended to keep BharatGas LPG prices under check.
"Whosoever purchases BPCL will have to adhere to the prices fixed by the Centre for domestic users eligible for subsidy.
"BharatGas has a large chunk of the domestic market and consumers are price-sensitive," an oil ministry official said.
The Centre in December 2015 withdrew LPG subsidies for those having an annual taxable income of above Rs 10 lakh.
Everyone else is still in principle eligible to receive LPG subsidy from the annual budgetary allocation.
But under the present pricing regime, there is no budgetary subsidy being borne for LPG in the country and the oil companies are bearing the brunt of price curbs.
"Subsidy for eligible BharatGas consumers will continue and the new owner will have to maintain the effective price to beneficiaries.
"So, if Indane (IndianOil's LPG division) and HP Gas (HPCL's LPG division) are selling a domestic cylinder for, say, Rs 900 (effective price after subsidy) in a city, BharatGas consumers will continue to get it at Rs 900 for the same category of beneficiaries even after BPCL's privatisation," the official added.
The government is shedding its stake in BPCL in two stages. In the first stage, interested parties were instructed to submit their bids to the transaction advisor (Deloitte Touche Tohmatsu India).
These interested parties were vetted in accordance with the eligibility criteria, following which the successful parties entered a confidentiality undertaking with the Centre.
In the second stage, these qualified interested parties were provided with a request for proposal (RFP) and provided more details about BPCL under the confidentiality undertaking.
The interested parties would then submit financial bids, which would be evaluated by the Centre.
A preliminary information memorandum for inviting expressions of interest for strategic disinvestment of BPCL was floated on March 7, 2020.
On November 17, Finance Minister Nirmala Sitharaman tweeted that the Centre had received multiple bids.
In another tweet, Tuhin Kanta Pandey, secretary, Department of Investment and Public Asset Management (DIPAM), said the transaction would now move into the second stage.
On December 2, 2020, then petroleum minister Dharmendra Pradhan confirmed there had been three bids for BPCL.
It is believed they are from Vedanta, Apollo Global, and I Squared Capital.
According to DIPAM's replies to the pre-bid queries (issued on September 4, 2020), these bidders can stitch together other partners in a consortium while bidding for BPCL as long as one of these three initial bidders remains a lead member.
BPCL's data room was opened in April 2021 to allow bidders access to the financial data of the refiner and better assess the valuation.
The Centre has 52.98 per cent shareholding in the public sector undertaking and the buyer may have to pay more than Rs 50,000 crore for the controlling stake at the present valuation.
Photograph: ANI Photo