'The message is not clear whether we are wanted.'
'All this could adversely impact our strategy in India and also investments.'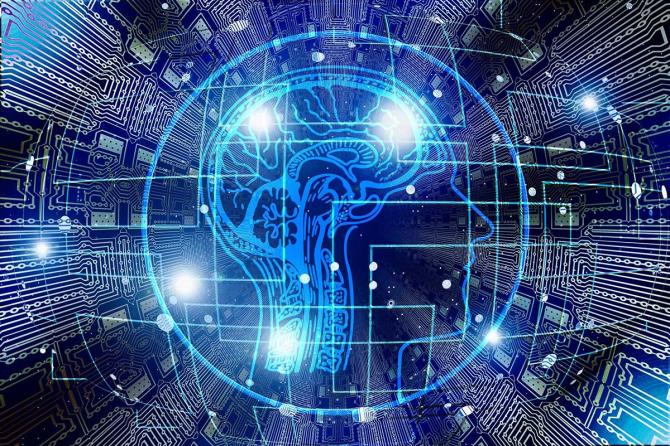 The Parliamentary standing committee's recommendations for introduction of a new Digital Competition Act to rein in Big Tech has given rise to serious concerns among global tech companies in India.
The government is studying the suggestions of the committee on finance, which has suggested that a new Digital Competition Act be introduced to rein in Big Tech and ensure fair and transparent competition.
Tech companies say this might lead them to re-think their investment and strategy in the country.
Many of them have already conveyed their concerns to the government.
A top executive at a global tech company says, "The government is coming out with three revamped bills which impact us. Now another bill specifically to control Big Tech has been suggested. Then there are the anti-competition orders."
"The message is not clear whether we are wanted. All this could adversely impact our strategy in India and also investments."
A top official at the ministry of electronics and information technology (MeitY) said, "We are studying the report currently."
The official was responding to a query on whether the government would look at coming out with another bill as recommended by the standing committee, or incorporate its suggestions in the digital bills that are in the works already.
Apart from underlining the need for a digital competition law, the committee has recommended a slew of other significant measures.
For example, it has said that the government should identify a small number of leading players or market winners that can negatively influence competitive conduct in the digital ecosystem as 'systematically important digital intermediaries' (SIDI), or digital gatekeepers, based on revenues, market cap, and the number of active businesses and end-users.
Experts say that in India these would include Google, Meta, Apple Inc, Amazon, amongst others.
These companies have already voiced their concern over the contentious clauses in the new bills, which are under consideration as they feel that the laws would impose multiple regulatory burdens on them.
For instance, the draft Telecommunication Bill has incorporated clauses, which will enable the government to license OTT communication platforms like WhatsApp and Telegram.
Big Tech companies point out that they are already controlled through the IT Act, which is being revamped. Hence, this would mean they will be governed by a plethora of laws and government departments.
However, the government has made it clear that the regulations would be 'light touch', so that the privacy of users is protected.
Again, the rulings by the Competition Commission of India against Google have added fuel to the fire.
The CCI has fined the company, alleging that it has been indulging in uncompetitive behaviour through its Play Store app policy, which forces all app developers to join it if they want to be on Android platforms.
Google has challenged the ruling in the National Company Law Appellate Tribunal, but has not got a stay.
The CCI has ordered Google to allow the sideloading of apps, which means that developers can load their apps on the Android platform without having to go through Play Store.
The parliamentary committee has given several significant recommendations on controlling Big Tech, which, experts say, are in line with what is happening globally, especially in Europe.
Explaining the need for a change in the legislative focus, the committee notes that digital businesses tend to have rapidly diminishing marginal costs as they grow, and scaling quickly often results in a 'winner takes it all' market outcome.
The committee says it takes serious note of this trend, where one or two winners emerge three to five years after the markets begins to develop, and by the time policies can be formulated or anti-competitive behaviour adjudicated, the markets tip in one direction.
So competitive behaviour needs to be evaluated 'ex ante', that is, before markets end up getting monopolised, instead of a 'ex post evaluation', which is being done at present.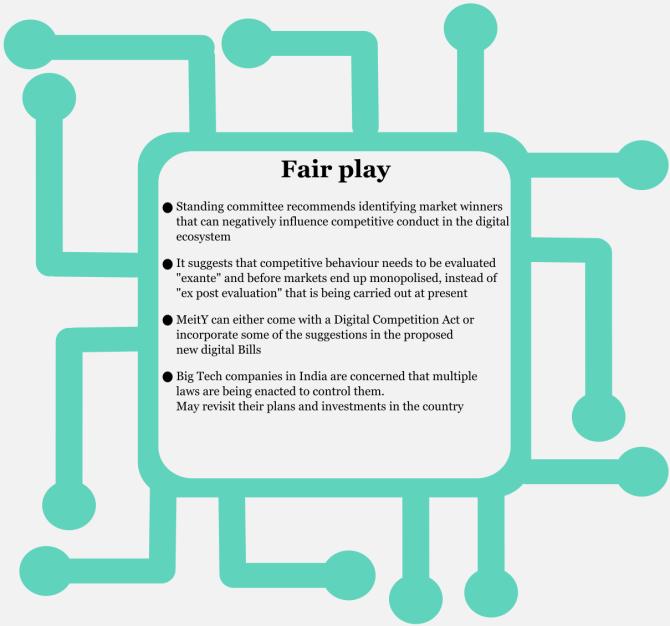 Feature Presentation: Ashish Narsale/Rediff.com