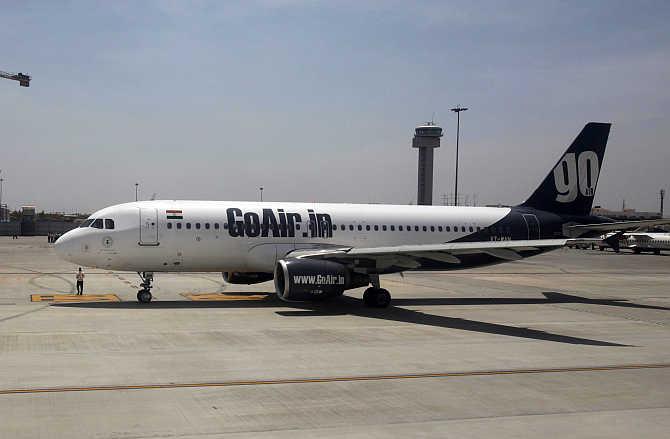 Three aircraft belonging to GoAir, Air India and a private non-scheduled operator have been grounded over the past few days by aviation regulator DGCA as it continued with its heightened surprise safety checks.
The three aircraft -- two Airbus A-320s and a Canadair Regional Jet (CRJ), were grounded after the safety surveillance found "significant and substantive" lapses in them, official sources said.
An Airbus A-320 of GoAir, VT-WAK, was grounded after it was found that a number of screws and bolts of its right-side air-conditioning panel were loose and not fixed properly, which could have caused a dangerous safety situation in- flight, they said.
The door seal of the aircraft's nose-gear was also found to be not properly sealed, they said, adding that the aircraft manual, a mandatory document on board for the pilots, was also not updated.
Another A-320 of Air India was grounded after the national carrier did not carry out a mandatory second check of the cowl or covering of the right-side engine, which was repaired several weeks ago for a dent.
The carpets on the interior of the plane was also found damaged and torn and could affect smooth movement of passengers, especially in an an emergency, the sources said.
An 18-seater CRJ of non-scheduled carrier A R Airways was also grounded after the surveillance as the life-raft container panel was found jammed.
Two of the cabin crew in the aircraft were also found to be without any proper training, they said.
When contacted, DGCA chief Prabhat Kumar confirmed the grounding of the three aircraft and said these aircraft would be released only after their owners rectified the defects found.
He told PTI that the defects found in all these aircraft were "substantive" in nature which could significantly jeopardise air safety.
The two airlines and the private operator have also been asked to explain how such defects were not rectified.