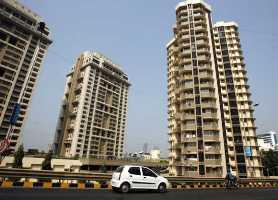 Realtors' body CREDAI on Tuesday hailed the Reserve Bank of India's decision to keep policy rates unchanged saying this indicates interest rates have peaked and hoped rates would come down in near future, giving boost to economic growth as well as housing demand.
"It is a positive move as it indicates that interest rates will not go upward. We hope the era of interest rate hikes has ended," Confederation of Real Estate Developers' Associations of India Chairman Lalit Kumar Jain said.

RBI, in its first bi-monthly monetary policy statement, left the short-term lending rate, or repo rate, unchanged at 8 per cent and the cash reserve ratio static at 4 per cent.

"We hope that the RBI will now look for a consistent decrease in repo rates in the near future.

"This will have a positive impact on the growth of real estate industry which will give a boost to the GDP growth," he said.

The statement of RBI governor predicting fall in CPI was a big reassurance, Jain said.

CREDAI reiterated its demand that RBI should take a "pragmatic and practical view of the growth of the real estate industry to help revive the economy and give a boost to the supply side to check price rise".

CREDAI-President C Shekar Reddy said the growth stimulus should be injected into the economy with reduction in repo rates with wholesale inflation under 5 per cent and retail inflation at around 8 per cent.

Real estate sector has been facing high input costs, high cost of funds and a moderate demand over the last few months, Reddy pointed out.

Commenting on policy rates, JLL India Chairman & Country Head Anuj Puri said: "The fact that the repo rates have remained unchanged is inherently positive."

"Even a marginal increase would have added further pressure on already struggling rate-sensitive sectors such as real estate, automobiles and banking, and negatively impacted borrowing sentiments of consumers," Puri added.

RICS South Asia MD Sachin Sandhir said the RBI's decision to keep the key policy rates unchanged comes on expected lines as there have been positive indicators in the economy such as the softening of the retail inflation.

Lotus Green Vice Chairman P Sahel said the decision of the RBI to keep key policy rates unchanged was widely anticipated by the industry.

"With inflation already in check, we see the decision of the bank to hold on to key interest rates as a prelude to the gradual easing of interest rates in the days ahead," he added.

Microtek MD Ajay Aggarwal hoped that the next policy review would throw positive news on interest rates front.

Brys CMD Rahul Gaur expressed satisfaction over RBI's decision not to hike policy rates, but RG Group MD Rajesh Goyal said the industry was expecting a fall in the repo and reverse repo rate to beat slowdown in housing demand.