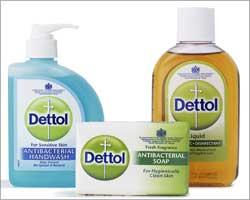 Dettol, followed by Tata Indicom, Infosys, Taj Hotels and Resorts, Wipro, Microsoft, Reva, Maruti, Colgate and Lifebuoy are the top 10 'green brands' in India, according to a recent research, titled 'The ImagePower Green Brands'.
"Our study shows Indian consumers are concerned about the environment and would love to spend more on green products but don't know how to, because of limited choice, limited distribution and limited labelling. This implies a huge latent opportunity for brands to tap into the power of green and create greater relevance for consumers," says Lulu Raghavan, Country Director (India), Landor.
The study was conducted by WPP agencies Cohn & Wolfe, Landor Associates and Penn, Schoen & Berland Associates, as well as the independent strategy consulting firm, Esty Environmental Partners, across seven countries - the US, UK, China, Brazil, India, Germany and France.
The study was conducted online, with consumers above the age of 18 years between May 4 and June 10. It has a margin of error of 3.6 per cent, both ways. For Brazil, India and China, the research was limited to tier-I cities.
Consumers from all seven countries believe that green products cost more than comparable non-green ones, and also indicate they plan to spend more money on green products in the coming year. China, India and Brazil showed significant support for additional spending.
As many as 73 per cent of Chinese consumers say they will spend more, 78 per cent of Indians say so, too, and so do 73 per cent of Brazilians. The percentage of respondents who indicate willingness to spend 30 per cent or more on green ranges from 8 per cent (UK) to 38 per cent (Brazil).
"With the global climate change discussion focused on what the major new economic powerhouses like China, India, and Brazil are willing to do to control their emissions, those three countries stood out in our polling as more interested in buying from environmentally friendly companies and more willing to spend more on green products," said Scott Siff, executive vice president of PSB.