Even as the Securities and Exchange Board of India (Sebi) is considering how to return funds to Sahara investors, Q Shop retail, Sahara Group's latest venture, is raising funds from its franchises by charging a stiff non-refundable fee of up to Rs 3 lakh, depending on the classification of a town.
Franchisees would also have to pay for the merchandise - the costs stand at Rs 200,000-350,000 for a 300-500 sq ft shop.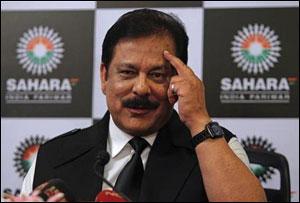 In an email, Sahara said the franchisee would be the custodian of the company's assets and wouldn't have ownership rights.
Against the non-refundable deposit, Sahara would provide racks, in-store branding and product training. It would also promote products at the local level.
Earlier, the Reserve Bank of India (RBI) hadn't confirmed the group's claim that, till February, Sahara India Financial Corporation had returned Rs 71,000 crore (Rs 710 billion) to those who had invested in its residual non-banking company (RNBC) last year. The company was yet to refund Rs 1,700 crore (Rs 17 billion), Sahara said.
Sahara claims the refunds are monitored by RBI. "The company has filed to RBI its maturity projections. The company seeks RBI's nod for the withdrawal of securities from time to time, based on maturity and pre-maturity. Repayments are being made after liquidating directed investments by the company, in line with the RBI directives," it said.
It adds the company provides the central bank monthly utilisation certificates, duly certified by statutory auditors. It also provides movement of deposits liability certificate in line with the format provided by RBI, to be duly certified by statutory auditors, it adds. "Other returns, including know-your-customer compliance certificates are filed to RBI. Quarterly physical verification of securities and annual financial inspection are conducted by RBI regularly," Sahara says.
An RBI official did not reply to an email seeking comment.
"There is no way to find out how Sahara has refunded the money, unless it is certified by an independent auditor," an Institute of Chartered Accountants of India official said, adding the certificate should be sent to RBI and made public.
Last year, in advertisements in many newspapers, Sahara had claimed it had repaid all its RNBC investors. However, it didn't clarify how it had managed to repay the investors in such a short period.
In the first advertisement, Sahara had said it would repay the entire liability by December 2011. But in subsequent advertisements, it had extended the deadline.