Companies, analysts feel, will be able to pass on the sharp rise in raw material - oil - prices over time.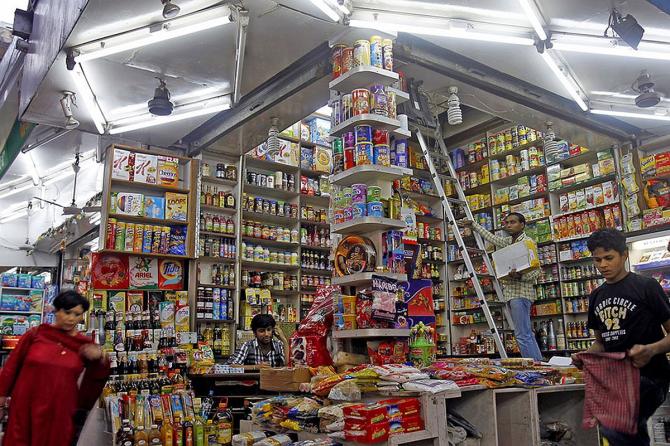 Photograph: Mansi Thapliyal/Reuters
Despite near-term headwinds of rising input costs and the possibility of lower demand for products as Covid dented rural & urban India, and impacts both production & consumption, analysts remain bullish on stocks of fast moving consumer goods (FMCG) companies and expect the index to relatively outperform its peers in the second half of fiscal 2021-22 (FY22).
In the past one year, prices of key commodities such as groundnut oil, mustard oil, Vanaspati, soya oil, sunflower oil and palm oil have shot up in the range of 20 per cent to 60 per cent, data show.
The FMCG sector macros in this backdrop, according to analysts, have further deteriorated because of weakness in consumer demand and likely margin pressure due to elevated crude oil, palm oil and global food prices.
"The weakness in IIP consumer goods may remain for next few months given high unemployment level," wrote Pankaj Chhaochharia and Dhirendra Tiwari of Antique Stock Broking in a recent report.
Companies, analysts feel, will be able to pass on the sharp rise in raw material (oil) prices over time.
Consumers, on their part, will still continue to buy essentials such as biscuits, tea, sugar, noodles, soaps and shampoos etc, but may defer the purchase for high-end products in each of these categories for now.
Cushioning the blow to consumption, according to them, is the third consecutive year of normal monsoon, which will aid farm produce, keep inflation under check and help revive the economy post the recent lockdown.
"The full 'pass-on / transmission' may not be immediate, as companies also understand the impact of Covid on rural & urban India.
"It may happen gradually over time. That said, people will still continue to buy essentials, but the demand for high-end products may get hampered. A normal monsoon will help," says G Chokkalingam, founder and chief investment officer, Equinomics Research.
At the bourses, the Nifty FMCG index has been an underperformer thus far in FY22, slipping 0.1 per cent as compared to a rise of around 5 per cent in the Nifty50.
Among individual stocks, the performance has been polarised with Godrej Consumer Products, Marico, United Spirits and Colgate-Palmolive (India) rising 9 per cent to 16 per cent during this period, while Britannia Industries, Hindustan Unilever Limited (HUL) and ITC slipping up to 6 per cent.
"India's consumption story has just started, given demographics, per capita income, penetration level, and shift to organized sector.
"We will see inflation in some years but FMCG companies have levers of pricing power and product mix and will be able to pass on most of it to consumers.
"Volume may slow for one or two quarters due to the impact on rural but demand should come back post monsoons.
"In addition, given youth aspirations, preference for brands will remain," suggests Mahesh Patil, chief investment officer at Aditya Birla Sun Life AMC.
Even if the overall FMCG sector were to underperform going ahead, analysts at Jefferies believe absolute returns offered by the sector could still be strong.
A common concern, they said, is also the high valuation multiples that FMCG companies trade at (40-60x), which could derate going forward.
"An uptick in GDP growth will likely percolate to consumer demand and accelerate penetration growth, premiumisation and shift to branded in key FMCG categories.
"Thus, absolute FMCG earnings growth, too, could accelerate in such an environment, even though relative performance appears weaker on earning growth.
"While FMCG companies do trade at a multiple which is at a premium to its own historic average, its valuation premium versus the Nifty has come-off to near five year average now," they said in a recent report.