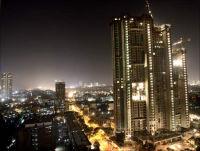 Top executives of DB Realty invited 120 residents of MIG Colony in Bandra (East) at an upscale hotel in Mumbai for dinner last Sunday and reassured them about the company's ability to undertake redevelopment of their five-acre society.
In the middle of a crisis, DB Realty is trying to put up a brave front. Three of its executives, including former MD Shahid Balwa, were arrested by the Central Bureau of Investigation for their role in the 2G spectrum scam, and four independent directors quit the company in quick succession.
However, it is Vinod Goenka, the MD, who is running the show with the support of a freshly put-together management team.
On April 2, Goenka was chargesheeted by the CBI.
In all, nine individuals and three companies have been chargesheeted in the case so far.
''Since Balwa stepped down, Goenka has been driving the company. He has experience of 15-20 years in the industry and delivered 14-15 million sq ft in the last eight years,'' said CFO M Sridhar, who was nominated by Goenka to brief Business Standard.
The management team at DB includes a couple of expats such as Giampaolo Giardina and Clive Gray, the heads of project management and design, respectively, and Sridhar.
All of them joined the company in the last three to four months.
There are 30-40 executives, including Rajendra Chourse, head of compliance, and a project manager for every project.
Sridhar says, like any other fast-growing firm, DB Realty has been trying to corporatise, build an organisation and processes, which can sustain it in the long run.
''In the last few months, we have infused new talent, brought in a manager from Deloitte to secure company's cash flows and an IIM graduate for business development), and are putting in structures and governance," said Sridhar, who joined DB from Future Capital.
DB Realty, however, claims its business is going as usual. It is developing 13 projects, which will add 20 million sq ft in the next four years.
Ten of them are under construction.
Barring one in Pune, all of them are in Mumbai.
It will hand over a 54-storey premium project in Goregaon by the year-end and, despite its crisis, signed in a new project (MIG colony, Bandra) to develop 900,000 sq ft that will cost Rs. 600 crore (Rs. 6 billion).
Luckily,
it has a low debt, Rs. 250 crore (Rs. 2.5 billion) on a net worth of Rs 3,200 crore [Rs. 32 billion) (a debt equity ratio of 0.1), which gives it a headroom for leverage.
But that doesn't help as no public sector bank is willing to lend till the negative news flow abates. So, the company will have to depend on internal accruals and private equity money.
Sridhar feels funding won't be a problem.
"Once the project is launched, and we sell 30 per cent and give the construction to a company like L&T, the collections will take care of the entire project," he said.
It may need to raise some construction loans which can come from private equity, who thrive on investing in a company in distress.
DB claims to have sold anywhere between 50 per cent to 90 per cent of stock in 10 projects.
Sales have been sluggish in the last quarter for all builders in Mumbai, but DB claims to have sold 80 flats and collected around Rs. 300 crore (Rs. 3 billion).
It is also trying to safeguard DB Realty's cash flow by ensuring they are used for its projects, and has assigned one person to do just that.
Since it is not buying any new land, there is no scope for any diversion.
Yet, the market is apprehensive. The stock touched an all-time high of Rs 474.9 on September 9, 2010.
Since then, the market has hammered the stock (it was at Rs. 114.45 at the close on Monday).
In 2010-11, DB counters have experienced significant market cap erosion too.
It will be a big challenge to change perceptions.
"The perception is that as the promoters have been impacted in the 2G scam, it will impact DB Realty. It will take time to correct the apprehensions," said Sridhar.
DB is trying to reconstitute its board (it still has three independent directors in a board of four) and a couple of people are likely to join it soon to replace some of those who had resigned.
But what if Goenka is also arrested in the 2G scam? Sridhar said the situation may not arise.
"The company's projects won't get affected. We are reconstituting the board. It should mitigate such concerns. There will be other members of the board. Fundamentally, the whole issue has been driven by perception," he said.
Whatever DB may project, the company is watching out for the next court hearing on the 2G case, slated for April 13.
All those chargesheeted (including Goenka) have been summoned.