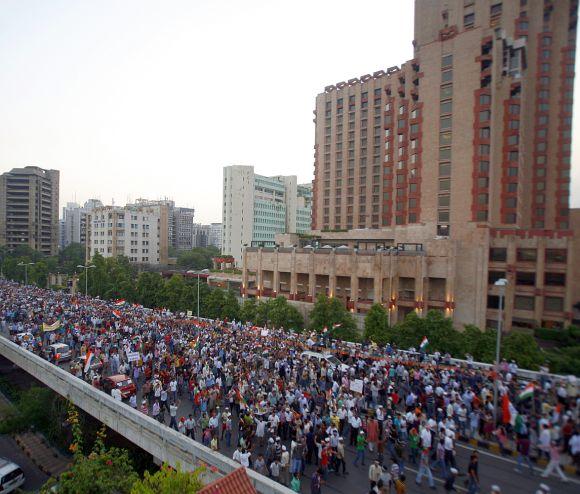 Image: People over a flyover towards Ramlila grounds.
Photograph: Parivartan Sharma/Reuters
New Delhi has high average density of built up area, nearly twice the levels of wider New York metro area despite the Indian capital's relatively low-rise urban landscape, a research report prepared by London School of Economics has said.
"Comparing Delhi's urban dynamics to the eight other Urban Age cities - London, Bogota, Lagos, Tokyo, New York, Istanbul and Berlin - highlights that despite the capital's relatively low-rise urban landscape, it has an extremely high average density of built up area of 19,698 people per square kilometre.
"This is nearly twice the levels for wider New York metro area (which at 11,531 people/sq km includes high-rise Manhattan), the research report which was released today said.
The report also said Delhi scores well in having a very low level of violent crime measured by the murder rate (homicides per 100,000 people), than New York and Istanbul.
The research has been carried out in preparation of the two-day conference on Urban Age 'Governing Urban Futures' which started here today.
The conference is being organised by 'LSE Cities' at the London School of Economics and Political Science and Deutsche Bank's Alfred Herrhausen Society in partnership with the National Institute of Urban Affairs (NIUA).
Speaking on the occasion, Deutsche Bank AG Co-Chief Executive Anshu Jain said, "Today, cities account for 2 per cent of the world's landmass but produce 80 per of global wealth. Over the next 30 years, one third of the world's economic growth will be generated in the top 100 cities."
Quoting the McKinsey Global Institute report, Jain said, "India needs to build the equivalent of a new Chicago every year for the next few decades to sustain its growth."
"That's why the Indian government's '100 Smart Cities' initiative is so important," he added.