Galleon Group founder Raj Rajaratnam's defence team have rested their case in the biggest hedge fund insider trading trial in the US history. Rajaratnam's defence rested their case on Monday.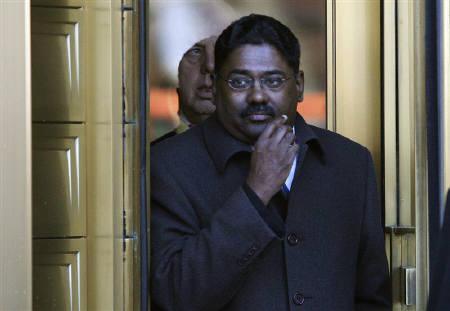 The government and defence will present closing arguments on Wednesday before the jury begins deliberations.

Fifty-three-year-old Rajaratnam is on trial in the US for alleged insider trading. He is accused of making more than $ 63 million from insider tips passed on by his friends and colleagues in the top financial circles of Wall Street.

The Sri Lanka-born billionaire did not take the stand in his own defence at the trial. During the past week, the defence argued that Rajaratnam had traded on information that was already in public domain.

On Monday, Manhattan Assistant Attorney Jonathan Streeter continued with his cross-examination of Gregg A Jarrell, a key defence witness.

Jarrell, a professor of finance and economics at the University of Rochester, last week, produced analyst reports and press clippings to show that the content of the alleged tips was public information.

The prosecution, however, argued that an investor could trade both on a combination of public information as well as confidential information that he was getting from an insider.

"If you have tomorrow's business news today, that is a great advantage," Streeter asked Jarrell, during cross-examination, last week.

"If you have certainty in a world of uncertainty that is an advantage," Jarrell replied.

Rajaratnam, who is charged with 14 counts of conspiracy and securities fraud, denies wrongdoing. If found guilty, he faces up to 20 years in prison. Out of the 26 people arrested in the case, 19 have pleaded guilty.

In March, the prosecution played secretly recorded phone conversations between Rajaratnam and his alleged sources discussing confidential information.

Two Indian-Americans Anil Kumar, a former director McKinsey & Co and Rajiv Goel, a former executive at Intel Inc, have pleaded guilty and they testified against Rajaratnam, their classmate from the Wharton School of the University of Pennsylvania.

A third Indian-American, Rajat Gupta, has not been charged in the criminal case but faces civil charges from the Securities and Exchange Commission for passing confidential information to Rajaratnam.

Gupta, a former board member of Goldman Sachs, has been accused of telling Rajaratnam about the firm's fourth quarter earnings in 2008 and that Warren Buffet Berkshire Hathaway Inc was going to invest $ 5 billion in the investment bank.

Lloyd Blankfein, CEO of Goldman Sachs, who was called as a government witness, told the jury that Gupta had violated the firm's confidentiality policy, when he told Rajaratnam about the firm's plans to acquire Wachovia or the American International Group.