Distancing himself from the reduction in petrol prices, Finance Minister Pranab Mukherjee on Wednesday said it was a decision of oil marketing companies.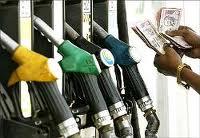 "Oil marketing companies are to take decision depending on cost of their imports. It is market related as per as oil market companies are concerned on petrol," Mukherjee told reporters.

Oil marketing companies reduced petrol prices for the first time in nearly three years by Rs 2.22 a litre. The reduction more than erases the steep Rs 1.80 a litre hike in rate announced earlier this month.

Indian Oil Corp (IOC) Chairman R S Butola had said the the OMCs are passing on the gain of Rs 1.85 per litre (excluding all taxes)
since the last price revision because of a fall in global oil rates and a marginal appreciation in rupee value.
Both the Opposition and the UPA allies had strongly criticised the UPA for allowing state-owned oil companies to increase petrol price at a time when headline inflation was nearing double digits.
This is the first reduction in petrol price since January 2009 when rates were cut by Rs 5 per litre. Before that the then Oil Minister Murli Deora had made oil firms slash petrol price by an equal proportion in December 2008.