Consumers in India are growing more comfortable with using their debit cards to pay for purchases, according to Visa's latest Global Payment Tracking (GPT) Survey.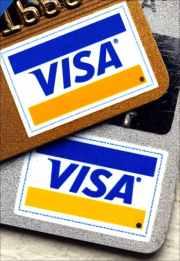 The debit card penetration in India is at 53 per cent, a four per cent rise over the previous year. Of the respondents that were interviewed for the survey, 68 per cent of the respondents from India said that they feel safe, and another 51 per cent derive a sense of pride when using their debit cards.

"Indians are motivated by both the convenience of usage as well as the avoidance of debt -- key attributes that debit cards possess and which in turn help promote debit card usage," said Brian McGrory, head of debit products in Asia Pacific, Central Europe, Middle East and Africa at Visa Worldwide.

The tracker suggests that even though awareness is high, the rate of usage is still relatively low in India. This is because consumers are led by two main misperceptions -- they will incur an additional fee by merchants on each debit card transaction and the fear of overspending on their debit card.

"The biggest hurdle sometimes can just be a personal mindset or a lack of experience in using their debit cards at a shop. Visa has been partnering with a number of retailers across India to provide incentives for Visa debit cardholders to pull out their cards when they shop.
We have seen that cardholders who've used their card at least once at a shop or restaurant realise that not only there are no hidden transaction charges, but they really are using their own money -- just in a more modern, secure and convenient way," said McGrory.

The GPT also revealed that consumers around the world are increasingly relying on debit cards to pay for purchases. On an average, 48 per cent of all the monthly spending (excluding rent and mortgage) is paid on cards -- out of which, over 25 percent (an increase of two percentage points since 2010) are debit card payments across the 14 countries covered in the study.

"Electronic payments also play an important role in helping governments combat money laundering, terrorist financing, tax evasion and fraud. Electronic payments systems such as debit cards are the way of the future for Asia-Pacific governments, companies and individuals, offering scope for significant further gains in efficiency and productivity for payments systems, as well as increasing financial inclusion and access to financial services for large segments of the population in many Asian developing countries," said Rajiv Biswas, Asia-Pacific chief economist, IHS Global Insight.

Across the 14 countries surveyed, more than 60 per cent of the people polled in the world were cardholders (whether debit or credit card). Specifically, 62 per cent own a debit card while 38 per cent own a credit card.