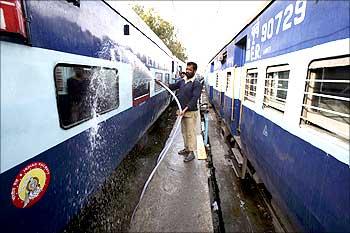 The latest increase in the price of diesel will put an additional burden of Rs 720 crore (Rs 7.2 billion) annually on the Indian Railways, even as it tries hard to bring down expenses to maintain weakening financial viability.

The railways buy an average of 2.4 billion litres of diesel every year spending around Rs 4,500 crore (Rs 45 billion) annually on diesel fuel expenses for operating locomotives.

The government had raised diesel prices by Rs 3 a litre to Rs 41.13 on Saturday.

"The decision to increase diesel price by Rs 3 will have an impact of Rs 720 crore annually on Indian Railways' expenditure.

It has become difficult to keep afloat (economically)," said a senior ministry official.

The government had last raised diesel prices by Rs 2 a litre on June 26, 2010. The rise had resulted in a hit of Rs 460 crore (Rs 4.6 billion)
on railways' revenues then.
The railways use a mix of electric and diesel traction, the motor used to propel rail cars.
Around 51 per cent of the 11,000 passenger trains and 37 per cent of freight trains run on diesel.
Overall fuel cost accounted for over 19 per cent of railways' working expenditure of Rs 83,167 crore (Rs 831.67 billion) in 2010-11.
The railway ministry had budgeted for an additional Rs 993 crore (Rs 9.93 billion) spending on fuel in the current financial year owing to increase in prices of diesel and electricity tariff.
The financial health of Indian Railways has worsened over the last few years with the operating ratio -- money spent to earn a sum of Rs 100 -- rising from 75.9 in 2007-08 to 91.1 in 2010-11.
Its total working expenses have risen 77 per cent to Rs 96,450 over the same period.