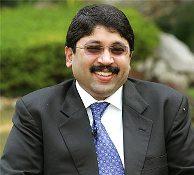 Maharashtra's Minister for Food and Civil Supplies, Anil Deshmukh has blamed Union Textile Minister and DMK leader Dayanidhi Maran a for imposing ban on cotton export.
"Media reports saying Union Cabinet has imposed a ban on cotton export are not true. The fact is Maran is under pressure of private textile mills owners and to make available cotton at cheaper rates to them, has imposed a ban," Deshmukh, a senior NCP leader said.
He said Union Cabinet has not taken any decision in this regard and the ban was not in the best interest of cotton growers who are suffering losses to the tune of Rs 500 per quintal.
Defending his party boss Sharad Pawar, Deshmukh said due to hectic efforts of Pawar, for the first time the support price of cotton has increased by 48 per cent. Cotton growers have benefited by this, he added.
Deshmukh, however, admitted that ban on cotton export has decreased the cotton prices besides increase in area of cotton cultivation.
A delegation of cotton growers from the region would soon meet UPA chairperson, Sonia Gandhi to apprise her about the problems, he said. Deshmukh evaded a direct answer to a query that only 15 per cent of cotton was left with farmers and the move will only benefit traders and not cotton growers.
Deshmukh's statement on cotton export ban came a week after Maharashtra Minister for Social Justice Shivajirao Moghe who hails from cotton growing Yavatmal district, met Sonia Gandhi and urged her to use her good office in lifting ban on cotton export.