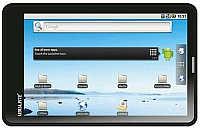 With a faster processor, greater memory and a better screen, Aakash-2, the reincarnated version of low-cost tablet Aakash, is looking at bigger markets, beyond the education space.
After bagging an order for supplying 100,000 tablets to the ministry of human resource development, Datawind, maker of the low-cost device, is now getting queries from other government agencies.
"There is a lot of interest from the rural development department and others for using these," said Suneet Singh Tuli, chief executive of the Canadian company.
While departments are directly getting in touch with MHRD for Aakash-2, Datawind is also approaching these and state governments for using the tablet to help implement various programmes.
"We got in touch with the ministry of commerce and explained to them how giving out point of sales terminals in the form of Aakash-2 to shop owners in rural India can improve efficiency in the system. We are also in talks with the ministry of rural development on how the new tablet can help the ministry in the caste survey process," said Tuli.
The government has planned to use Aakash-2 as a verification tool to ensure subsidised goods reach the intended beneficiaries. The tablets would be used to verify biometric data of a person with the database prepared by the Unique Identification Authority of India.
"Software developers are working on the various aspects of how Aakash-2
can be aligned with the UIDAI project. The development and testing of these devices is on," said Tuli.
According to a senior HRD ministry official: "There is a lot of interest among various ministries. Most of them are exploring how the low-cost device can be used for implementing various programmes."
The central government is procuring the tablet from Datawind at Rs 2,263 each and is to provide these to students at a subsidised rate of Rs 1,132 a unit.
Datawind had already sold 20,000 tablets to the Centre and is expected to deliver a total of 100,000 tablets to the latter by the end of December.
Termed the world's cheapest tablet PC, it was launched in October 2011 by Union Minister Kapil Sibal. However, the device then got mired in controversy. Funded by the government, the Indian Institute of Technology, Jodhpur, had floated a tender for 100,000 low-cost tablets. Datawind won the tender and supplied 10,000 pieces.
However, there was severe criticism about the quality of the device. After an acrimonious exchnage of words, the project was shifted to IIT Bombay. With the latter as its technology partner, Datawind this month has launched Aakash-2.
The new version is now powered by a processor running at 1 GHz, has 512 MB, a seven-inch capacitative touch screen and a battery working for three hours of normal operations.