The damage to aircraft is estimated to be around Rs 200 crore.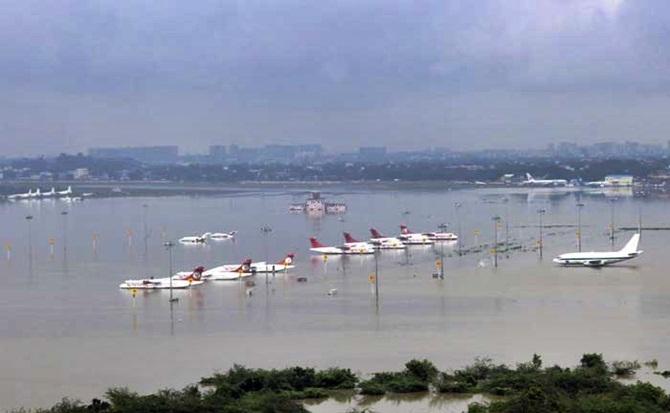 Eight corporate jets and charter planes, damaged in the Chennai deluge last week, will remain grounded for two-three months for inspection and overhaul.
While companies can claim insurance for damages to spare parts and components, charter companies will take a hit as loss of revenue is not covered under insurance policies.
Planes belonging to TVS Motors, Sun TV, Kalyan Jewellers and Joy Jets (charter firm belonging to Joy Alukkas group) have been impacted due to the flooding.
Damages to hull and spares are estimated to be around Rs 200 crore (Rs 2 billion), according to a senior executive from a public sector insurance company.
TVS Motors declined comment, while Sun TV did not respond to email query on the issue.
Chennai-based United India Insurance, among other insurance companies, has been involved in the process of assessing the claims through insurance surveyors and loss assessors.
"Aircraft owners are staring at the possibility of huge losses in terms of repairs, loss of business, increased insurance premiums and hundreds of utilisation hours lost on these assets worth millions," said Jayant Nadkarni, president, Business Aircraft Operators Association.
Ravi Menon, executive director, Air Works, which provides maintenance services to the business aircraft owners, said: "These are unusual circumstances and maintenance work on the impacted aircraft will be anything but routine. We are in touch with engine and component manufacturers to understand the level of engineering checks which need to be carried out. A complete integrity check would be required to assess the damage to engines, landing gear, wiring and components. It may take at least two months for some of these aircraft to get air worthiness."
"Our business is down 50 per cent as one of our two Embraer jets is grounded after floods," said Captain Asif Punathil, head (operations) of Joy Jets.
According to him, engine, components and landing gear would require an overhaul and the aircraft might remain out of service for next three-six months.
The avionics compartment in the jet are situated above the baggage hold of aircraft which was submerged in the water.
"As the airport boundary wall collapsed river water gushed in and this could contain effluents and sewer impacting the engines. We are in touch with manufacturers to assess damage," he added.
TVS Motors declined comment while Sun TV did not respond to email query on the issue.