Dabhol power plant is a lesson on what to avoid while setting up large infrastructure projects.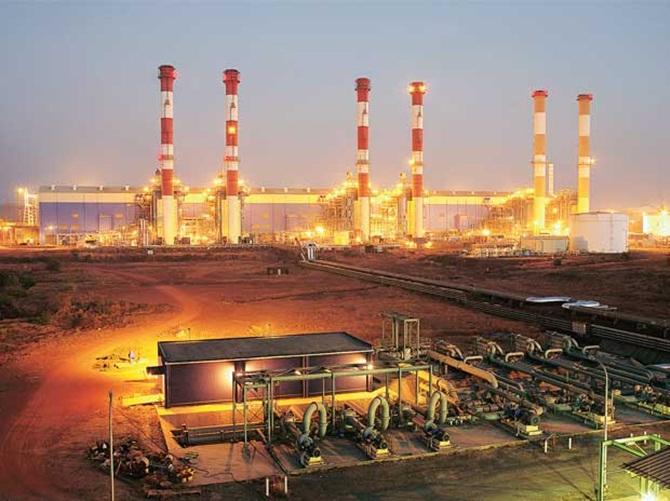 IMAGE: Dabhol plant has been in the custody of state-owned NTPC and GAIL. Photograph, courtesy: Business Standard
Sovereign guarantee
When Enron's proposal came up for clearance, the Foreign Investment Promotion Board in October 1992 rejected its request that the India government guarantee payments by the Maharashtra State Electricity Board.

The Maharashtra government in February 1994 agreed to unconditionally guarantee to pay if MSEB failed to pay. A tripartite agreement was signed by the Centre, Maharashtra and RBI in September 1994, guaranteeing payment of about Rs 1,500 crore (Rs 15 billion) a year by the Centre in case the government of Maharashtra defaulted.
In January 2001, Enron invoked the state government guarantee after MSEB defaulted for the previous two months. The next month, Enron invoked the Union government guarantee.

The experience, however, taught a lesson and sovereign guarantees for future infrastructure projects were ruled out.

In 2010, the Union ministry of finance came out with a policy on government guarantee, which now binds the government not just by the Constitutional provisions but also the Fiscal Responsibility and Budget Management Act, 2003.
Fixed rate of return
The project was awarded through a MoU, bypassing bidding. Power tariff was dollar denominated.

It was to start at 7.5 cents a unit in 1997 and then escalate by about 4 per cent. The internal rate of return was guaranteed at 25.22 per cent and after adjusting for inflation it translated to 32 per cent pre-tax IRR.

This was in contrast to the IRR norm of 16 per cent for power projects at that time and, according to one estimate, meant an additional profit of about $3 billion over the 20-year period for which the contract was signed.

Under the Electricity Act 2013, power projects can now be awarded only through tariff-based competitive bidding.
Implosion of the company
From the late 1990s, Enron started creating special purpose vehicles to keep debt off its own books. It inflated assets and in December 2001 when Dynergy called off its takeover, Enron filed for bankruptcy.

Several key executives and its auditor Arthur Anderson were held guilty for committing financial fraud.

It was believed that Enron falsely boosted its profit by nearly $1 billion between 1995 and 2001.
Choice of machines
If the history of Dabhol power plant is a lesson on what to avoid while setting up large infrastructure projects, the plant itself is an example on how machines can be preserved.
While America's General Electric (GE) supplied the machines, Bechtel designed the project.

Both the companies found themselves in dispute with the Indian government after Enron's exit. Problem came when Ratnagiri Gas & Power took over the idle plant in 2005.

There were nearly half a dozen machine failures till full commissioning in May 2009.

Though GE had no legal liabilities by then and BHEL was roped in to fix the machines, the American company's intervention was sought again.

Now, NTPC has put block 1 and 2 under dry preservation which involves use of dehumidifiers that throw air at 29 degrees and maintain humidity at less than 30 per cent.

The third block is kept under hot preservation or in full speed no load mode where machines are run with gas at 3,000 rmp for half an hour every fortnight.

This block along with second block at half the capacity are ready to operate and will start generating power once the Railways offtake begins.
Naphtha as feedstock
In many ways, naphtha, a liquid petroleum product, was the cause of Enron's deal with the Maharashtra government falling through.

Naphtha-based power generation at Rs 4.67 a unit (kw/hour) proved too expensive for the state to buy when Dabhol Power Company commissioned the block.

Later when Ratnagiri Gas & Power took over the plant it got 40,000 kilo litre of naphtha along.
To this was mixed a cargo of 21,000 kilo litre domestic naphtha procured from a government-owned oil marketing company which brought down the cost of naphtha. Ratnagiri Gas & Power used this to restart the plant in April 2006.

The price of naphtha, however, shot up subsequently.
The company imported 13 cargoes of naphtha and Ratnagiri Gas & Power generated power at an even higher rate of around Rs 5.5 a unit. From August 2007, however, Ratnagiri Gas & power switched to imported natural gas transported from Dahej in Gujarat.

But profit to the company came only when it started using domestic natural gas from October 2009 and generated power at Rs 3.5 a unit.