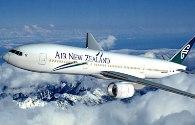 In an important transformation from 'cattle class' to 'cuddle class', Air New Zealand is set to unveil the world's first passenger plane with a radically redesigned interior that will allow economy class flyers to turn their seats into beds.

The idea is that two passengers travelling together should buy their seats at full price and pay about half-price for a third seat in the same row. By retracting the armrests and raising footrests, the three seats convert into what the airline calls a Skycouch, on which the two passengers can stretch out during the flight, The Telegraph reported.

The first 11 rows in the economy class cabin of the Boeing 777-300ER will have 22 sets of convertible seats. The Skycouch will be introduced on the airline's Auckland-London service via Los Angeles from April, according to the airline. Industry commentators have dubbed the development "cuddle class", and New Zealand's national carrier is now negotiating with up to 30 other airlines interested in licensing the design.

Ed Sims, Air New Zealand's group general manager, said economy class passengers, who made up the vast majority of flyers, had long been ignored by the world's airlines, which focused on the lucrative business and first-class markets.

"Chief executive Rob Fyfe said he wanted us to be the first airline to allow economy passengers to sleep, but he wanted to do it without giving an extra inch of leg room," Sims was quoted as saying. That had involved a complete redesign of the passenger space, he said.

"I think there will come a time when passenger demand will ask that every economy seat converts into a Skycouch."

Delays in the development of the planned new generation Boeing 787 Dreamliner allowed the aircraft builder more time to work with the airline on the redesigned cabin. Air New Zealand has two more Skycouch planes currently being built and is considering retro-fitting some of its existing aircraft.