Watsa, who has always believed in founders and management of the companies he invests in, has said that he restarted talks for the Catholic Syrian Bank deal due to CEO C V R Rajendran's initiatives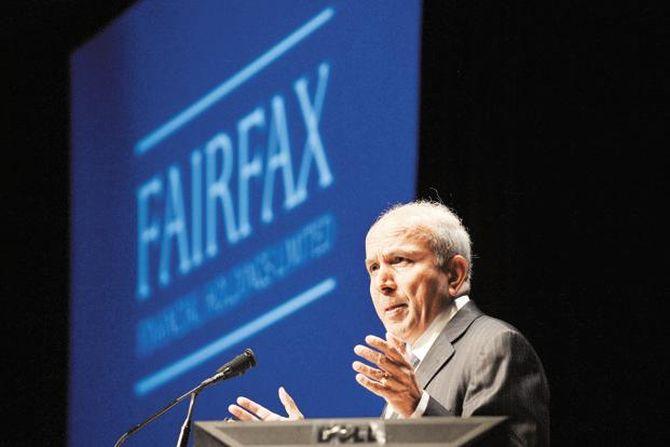 After several months of negotiation, Prem Watsa's Fairfax India Holdings had in May 2017 discontinued talks with Kerala-based Catholic Syrian Bank (CSB) to acquire a 51 per cent stake in the latter.
The reason given was price and valuation.
Months later, this February, the Indian-origin Canadian businessman has decided to pay more than what he offered in 2017.
Why? CSB's management, he says. Adding that he reopened the conversation after seeing CSB Managing Director C V R Rajendran's initiatives.
In a letter to Fairfax shareholders, he said they had discontinued the talks last May because of disagremeent on the price and valuation for investing the stake.
He did not mention what CSB wanted but sources suggest it was asking Rs 160 per share and an additional premium of Rs 10-15, too.
Since then, CSB has pursued, unsuccessfully, several avenues to attract capital at a valuation acceptable to it.
"Meanwhile, in anticipation of investing in CSB, we had identified Rajendran as the individual who would have been our choice for chief executive (CEO) of the bank.
"He, in fact, was appointed CEO about 14 months ago and is now well in control; he understands the bank and its loan book very well," said Watsa.
In late January, Rajendran reopened the conversation with Fairfax.
On the premise that based on improvements he had made at the bank, including loan recoveries and successful enhancement to thes organisational structure, there might have emerged a new price and valuation that could be acceptable to Fairfax.
"This was indeed the case," says the Watsa letter, and Fairfax has agreed to invest at Rs 140 a share, implying a multiple of 1.1 times the September 30, 2017, book value per share.
While Rajendran has already implemented several positive changes, much more needs to be done to improve and modernise CSB and bring it to full potential.
"The capital that we are infusing will be used to improve its CAR (capital adequacy ratio) and drive the necessary changes," said Watsa.
CSB reported a loss of Rs 97.47 crore in 2017-2018, as against a profit of Rs 1.55 crore in 2016-17 and loss of Rs 14,900 crore in 2015-16.
Rajendran attributed the FY18 loss mainly due to increases in non-performing assets, after the state government's decision to waive education loans and distress in the cashew industry.
He is confident CSB will turn around in 2018-19.
Photograph: Aaron Harris/Reuters